South Korea to repatriate China's Korean War soldiers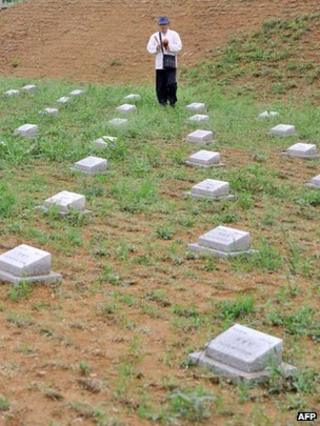 South Korea will repatriate the remains of 425 Chinese soldiers killed in the Korean War 60 years ago.
The authorities will dig up the remains, clean them and put them into coffins before sending them back to China in a process that will take several months.
Hundreds of thousands of Chinese troops are thought to have died in the war.
They fought for North Korea against UN forces, including soldiers from the United States and South Korea.
Presidential offer
The Chinese troops are currently buried at a military-controlled cemetery in Paju, just south of the border with North Korea.
It was established in 1996 as the final resting place of Chinese and North Korean soldiers killed in the conflict, which took place from 1950-53. The bodies were originally buried in smaller sites around the country.
Some graves are named, but most are identified only by nationality.
Over recent decades, South Korea has repatriated a few dozen Chinese soldiers through North Korea and using the United Nations, but nothing on this scale.
The offer to send back the remains was first made by South Korean President Park Geun-hye when she visited China in June.
South Korea has also offered to repatriate the remains of North Korean soldiers in the cemetery, but so far Pyongyang has not taken up the offer.