Delhi's new chief Arvind Kejriwal opts for smaller home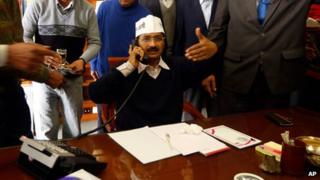 The new chief minister of the Indian capital has abandoned plans to move into the official residence after it provoked widespread criticism.
Arvind Kejriwal had defended his move into the two spacious five-bedroom flats - one to serve as his office.
But his opponents said it flew in the face of the election promises he made that helped bring him to office.
Mr Kejriwal's Aam Admi - or Common Man - party (AAP) won elections last month with a strong anti-corruption message.
On Friday, 45-year-old Mr Kejriwal played down the accommodation issue saying he would be living in one of the flats with his family, "while using the other as my office where we can work till late hour".
But on Saturday he admitted that it was not only his opponents who had taken issue with the move.
"My friends, supporters, have been calling me and sending messages saying I should not move into the five-bedroom flat," he told a party strategy meeting.
"So I have decided to forego them. I am asking the government to look for smaller accommodation for me."
His opponents had said Mr Kejriwal's move into the flats was in "total contradiction" of his claim to do away with what he had called the "VIP culture" of Indian politics.
"It is actually important," Mr Kejriwal said on Saturday in response to the attacks on him.
"We have come to cleanse dirty politics. Like Caesar's wife we have to be above suspicion and we have to subject ourselves to scrutiny."
Arvind Kejriwal, a former civil servant and leading anti-corruption activist, was sworn in as chief minister on 28 December after his one-year-old party won 28 of Delhi's 70 assembly seats.