Asylum policy: 'No comment'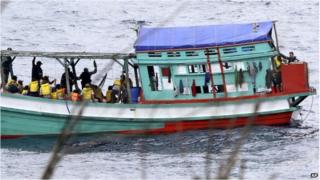 In the run-up to last year's Australian election, three words were perhaps uttered more than any others: "Stop the Boats."
The promise to end the flow of asylum seekers trying to reach Australia's shores was a key campaign pledge of Tony Abbott's conservative coalition, which eventually ended up in power.
Within days of being elected, Mr Abbott launched Operation Sovereign Borders, saying the issue was a matter on which he would "stand or fall".
Four months on, though, it's difficult to know just how steady on his feet Mr Abbott is.
His government has clearly decided that less is more when it comes to letting the public know just how well the mission to stop the boats is going.
These days, it's two words that seem to be increasingly uttered: "No comment."
Declaring that he wasn't in the business of giving "a shipping news service for people smugglers", Immigration Minister Scott Morrison quickly ended the previous Labor government's policy of giving real-time, detailed updates on any asylum-seeker boats trying to reach Australia.
Instead, Mr Morrison has being giving weekly media briefings, which have proved frustrating for journalists with many questions remaining unanswered for "operational reasons".
The minister argues he doesn't want to reveal the navy's tactics.
What he has said is that in the first 100 days of Operation Sovereign Borders, 1,106 asylum seekers arrived by boat, down 87% on the previous 100 days.
But the lack of detail about how that has been achieved has angered the government's opponents.
That anger this week reached fever pitch, with the Labor Party accusing the government of running a "Stalinist" and "North Korean" style media blackout on asylum-seeker issues.
It came after media reports here that the government was looking into buying a fleet of lifeboats to ferry asylum seekers back to Indonesia if they were intercepted on route in unseaworthy boats.
The lifeboats would apparently have engines and roofs and be stocked with food, water and life jackets.
Who would steer them and whether Australia would ever expect to get them back was not made clear.
Indeed, we may never know if the story is true.
Again, the government said it would not comment on operational matters, simply saying it would take "all necessary steps" to stop the boats.
It followed this week's claims that for the first time since Operation Sovereign Borders began, the Australian navy had physically turned back two boats towards Indonesia.
There was no official confirmation or denial from the Australian authorities.
Indonesia has said such "turn backs" could threaten its sovereignty - and the news may further strain relations already damaged by the recent spying revelations involving the two countries.
If Australia is to stop the boats, most agree that it will need co-operation from Indonesia.
Some here see Australia's refugee policy not only as damaging to the country's international relations, but also to its international reputation.
But one poll out this week shows a majority of Australians would actually welcome tougher treatment of asylum seekers.