Rodman apology for US North Korea detainee comments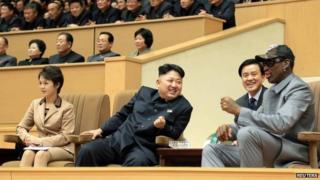 Former US basketball player Dennis Rodman has apologised for angry comments he made about an American man detained in North Korea.
In an interview with CNN from North Korea, Rodman had appeared to point blame at Kenneth Bae, who has been jailed for 15 years by Pyongyang.
In a statement, he apologised and said he had been drinking.
Rodman is in North Korea for a basketball match to mark the birthday of North Korean leader Kim Jong-un.
The match was played on Wednesday and was attended by Mr Kim, to whom Rodman sang Happy Birthday.
Rodman is the most high-profile American to meet the young leader, who he describes as a friend.
His visit comes with all eyes on North Korea in the wake of the execution of Chang Song-thaek, Mr Kim's uncle and a powerful figure once seen as a key influence.
'Overwhelmed'
In his statement, Rodman said he took full responsibility for his actions.
"It had been a very stressful day. Some of my team-mates were leaving because of pressure from their families and business associates," he wrote.
"My dreams of basketball diplomacy was quickly falling apart. I had been drinking. It's not an excuse but by the time the interview happened I was upset. I was overwhelmed. It's not an excuse, it's just the truth."
The former NBA star's controversial comments came as he made his fourth visit to North Korea.
Rodman had been asked several times in the past whether he could use his relationship with Mr Kim to discuss Kenneth Bae, a Korean-American sentenced to 15 years' hard labour in May 2013.
North Korea said that Mr Bae - described as both a tour operator and Christian missionary - had used his tourism business to plot sedition.
In the interview with CNN, Rodman lost his cool, appearing to suggest Kenneth Bae was at fault.
"If you understand what Kenneth Bae did... Do you understand what he did in this country? ... I would love to speak on this," he said.
Mr Bae's sister described Rodman's comments as appalling and said she was concerned they would hurt efforts to free her brother.
North Korea has in the past used US detainees to secure visits from high-profile officials.
Rodman has faced strong criticism from rights groups over his visit to North Korea, which conducted its third nuclear test last year.
State Department officials have made it clear he is not representing the US.