Hong Kong arrests employer of 'tortured Indonesian maid'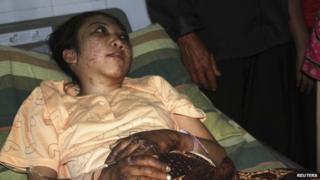 Police in Hong Kong have arrested a woman suspected of torturing her Indonesian maid, in a case which has sparked protests.
Erwiana Sulistyaningsih, 23, is currently in hospital in Indonesia. She said she suffered months of abuse from the 44-year-old woman in Hong Kong.
Hong Kong employs at least 300,000 domestic workers, mostly from Indonesia and the Philippines.
On Sunday, several thousand rallied in the city to demand justice for her.
Eni Lestari, head of the International Migrants Alliance, said during the protest that they want a speedy investigation into the case.
The arrest in Hong Kong follows a separate complaint by another maid who had been employed by the same woman, reports said.
Hong Kong officials left for Indonesia on Monday to interview Ms Erwiana after launching an investigation into her case last week.
She was reportedly beaten so badly she was in a critical condition and had difficulty walking when she arrived in Indonesia last week.
A spokesman from the hospital on Java Island told Reuters news agency on Sunday that her injuries were extensive, but that her condition had stabilised.
Last year, a couple were jailed for repeated attacks on their Indonesian maid, who said that they beat her repeatedly and burnt her with an iron.
The maid eventually managed to escape and sought refuge at the Indonesian consulate.