Japan Bali missing divers: Body is found off the coast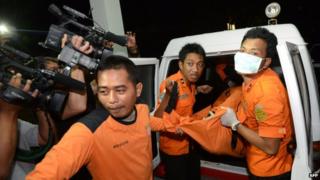 A body believed to be of a Japanese scuba diver has been found floating off the coast of the Indonesian island of Bali four days after she went missing, a rescue agency official said.
The diver was among seven women who disappeared after diving on Friday off Nusa Penida, some 20km (12 miles) off the eastern coast of Bali.
Five of the seven Japanese divers were found on Monday.
The team, all experienced divers, disappeared in bad weather.
"We are convinced that the body belongs to one of the two missing Japanese divers, based on the diver's characteristics," Bali search and rescue chief Didi Hamzar told the AFP news agency.
The body was found at 6:10 pm (1010 GMT), floating off Serangan beach in southern Bali, Mr Hamzar said.
He said that the body had been taken to a hospital in Denpasar - the Balinese capital - for an autopsy.
Officials say that so far there is no trace of the remaining missing diver and the search for her will continue.
The five rescued divers were "found atop a large coral reef" after they were spotted by local fishermen, officials said.
Experts say it is a miracle that they survived.
They went on two diving trips early on Friday but failed to return after a third trip that afternoon.
Nusa Penida, popular with divers because of crystal clear waters and the opportunity to see rare Ocean Sunfish, is known for treacherous currents. A number of fatal accidents have occurred there.