Afghan army officers dismissed over Kunar attack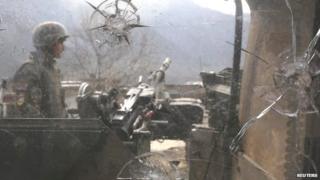 Nine Afghan army officers have been dismissed for negligently failing to prevent an attack on a checkpoint in Kunar province, in which 21 soldiers were killed, the defence ministry says.
A spokesman for the ministry told the BBC that those sacked included the brigade commander and battalion and unit commanders in Kunar.
Several Afghan army intelligence officers have also been dismissed.
The violence came in the run-up to presidential elections in April.
The soldiers were killed on Sunday morning when their checkpoint, near the border with Pakistan, was attacked.
Security sources told the BBC's Bilal Sarwary in Kabul that most of the soldiers inside the post were poisoned and that only about 10 of them fought back.
They said that at least three soldiers were in collusion with the insurgents and facilitated the attack.
The defence ministry says that hundreds of insurgents, including foreign fighters, targeted the checkpoint with heavy weapons. Seven soldiers were taken captive.
The officers sacked could also face prosecution, it said in a statement.
There have also been allegations that most of the soldiers inside the post were asleep when the attack took place.
Afghan President Hamid Karzai postponed a planned visit to Sri Lanka on Sunday because of the attack, one of the deadliest Taliban assaults against the army over the past year.
It came as 55,000 Nato troops prepare to withdraw from Afghanistan by the end of this year.
Militants have escalated attacks in recent months before the withdrawal.
Casualties among Afghan troops have been rising significantly since they took the lead in the war against the Taliban.
Security has been stepped before the April elections.
Eleven candidates are standing to replace President Karzai, who cannot seek re-election.
The Taliban have threatened to target the campaign.