Regional media criticise Malaysia over plane search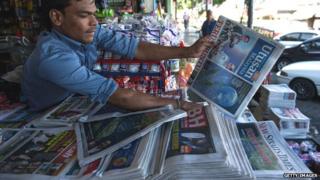 There has been sharp criticism of the investigation into the fate of flight MH370 in newspapers across the Asia-Pacific region.
Azmi Sharom in Malaysia's The Star, writes that, although no-one expects the authorities to "know what has happened or where the plane is, because nobody does", he says that "long periods of silence followed by defensive and sometimes contradictory press conferences do not engender confidence or any sort of comfort for the families and friends of those missing".
'Effort squandered'
The sense that something is being held back is widespread, and with so many Chinese citizens missing, it is no surprise that that country's media have been among the most critical.
State news agency Xinhua carries a column by Wu Liming asserting that "due to the lack of transparency, massive efforts have been squandered", adding that while the situation is "unprecedented and complicated" there is "no doubt that Malaysia has the unavoidable responsibility to set up an information-sharing platform".
New Zealand's The Press too complains that "the confusion has been compounded by the Malaysian authorities' far from complete candour", suggesting it could indicate an attempt to conceal "significant failures" related to both the disappearance and the subsequent investigation.
The Australian daily goes further, pinning the blame for what it calls Malaysia's "chaotic and confused handling" of the search on "a ruling elite in power since independence in 1957 that has long regarded itself as above scrutiny".
However, a piece in Malaysia's The Star, called "The burden of being frontliners of the country" cautions against a rush to judgement.
"Like the doctor who may misdiagnose a patient as having cancer, only to have a subsequent scan reveal otherwise, we are currently at a stage where nothing is certain," it reads.
"In this fluid situation, let us not be too quick to condemn those who are entrusted to face the nation - and the world - to keep all of us posted, even if they fumble now and then."
'Diplomatic solidarity'
Not everyone is focusing on the negatives.
Malaysia's New Straits Times points out that the country has been "extremely fortunate" that so many nations have responded to its calls for help, saying it signified "great diplomatic solidarity", although it wondered whether this would continue once the search was over.
In neighbouring Singapore's Straits Times, retired navy captain Sukjoon Yoon says the cooperation could be a silver lining to the disappearance, saying it "presents a useful opportunity to build confidence and thus make unwanted maritime confrontations less likely in the future".
BBC Monitoring reports and analyses news from TV, radio, web and print media around the world. For more reports from BBC Monitoring, click here. You can follow BBC Monitoring on Twitter and Facebook.