S Korea, Japan leaders to meet at talks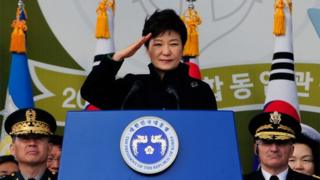 Japanese Prime Minister Shinzo Abe will meet South Korean President Park Geun-hye for the first time at a trilateral meeting with the US next week.
The talks come amid severe tensions over history issues and territorial disputes between the two neighbours.
The meeting will take place on the sidelines of a nuclear security conference in The Hague.
The three countries are expected to discuss North Korea's nuclear programme.
"During the talks, we plan to exchange views on the North Korean nuclear issue and nuclear nonproliferation," South Korea's foreign ministry said in a statement.
Mr Abe said he was "glad" to be meeting Ms Park, Kyodo news agency reported.
It is the first time the two leaders will meet since they both took office, Mr Abe in December 2012 and Ms Park in February 2013.
Seoul and Tokyo have been embroiled in a dispute over islands that lie between the two nations, known as Dodko in South Korea and Takeshima in Japan.
South Korea has also been angered by Mr Abe's recent visit to the Yasukuni Shrine, which honours Japan's war dead, including convicted war criminals.
Ms Park had previously said she saw no point in a summit with Japan unless the country apologised for war-time "wrongdoings".
Prospects for the meeting rose after Mr Abe promised to honour a historic apology for the army's use of war-time sex slaves.
Washington has been trying to get its two major Asian allies to set aside their differences and work more closely together.
US President Barack Obama will visit four Asian countries in late April, which will include Japan and South Korea.