Abdullah Abdullah leads Afghanistan poll count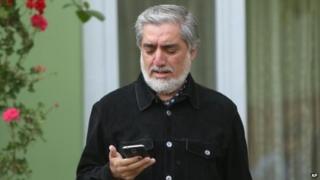 Afghan presidential candidate Abdullah Abdullah remains the frontrunner with 80% of votes counted, officials say.
Dr Abdullah has 43.8% of ballots cast, followed by Ashraf Ghani with 32.9%, according to the Independent Election Commission (IEC).
The IEC said the preliminary results suggested it was unlikely there would be an outright winner and that a run-off vote would be held on 28 May.
About seven million people voted across the 34 provinces in the 5 April poll.
The next president will face several challenging issues, including the expected withdrawal of foreign combat troops from Afghanistan later this year and ongoing attacks by the Taliban.
The Independent Election Commission said the preliminary results were based on nearly 82.6% of the vote from the 34 provinces.
The final results are due on 14 May.
In order to win outright, a candidate must secure more than half of valid ballots. If that does not happen, the top two candidates face a run-off.
"With the 17.5% of the votes that are going to be counted, it is doubtful that anyone will win in the first round," IEC chairman Ahmad Yousuf Nuristani told a news conference in Kabul.
Millions of Afghans defied Taliban threats to take part in the vote.
Turnout was double that of the last presidential election in 2009, despite a number of deadly attacks in the run-up and a cold, rainy polling day.
Analysts say Dr Abdullah fought a polished campaign, while Mr Ghani drew strong support among the new urban youth vote.
Although there were more than 100 violent incidents connected to the poll on election day, none stopped the election.