Tiananmen: Vietnam's newspapers criticise crackdown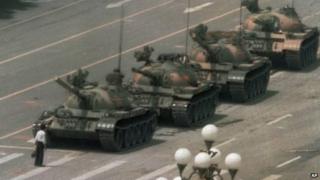 Nguyen Duc Long, 22, couldn't believe his eyes when he opened his laptop to read the news in the morning on 4 June.
On some of Vietnam's most popular online newspapers, there were big stories about the Tiananmen Square crackdown that took place in China 25 years ago.
The stories provided some details about what the papers called Chinese government's "repression of demonstrators, mostly students" and came with pictures depicting how the People's Liberation Army (PLA) troops and tanks moved in and shot at the protesters.
"I could see [in the photographs] pro-liberty placards, bloody bodies lying around, people handcuffed and taken away," says Long.
"And there was that photo of the tank man," he added, referring to the famous picture of a lone man standing in front of a column of PLA tanks on Chang'an Avenue near Tiananmen Square on 5 June 1989.
'Changes happening'
Of course Mr Long, a university student, had heard about the Tiananmen crackdown before and searched for information about it on the internet. But he never thought he would find strong words and condemnation of the brutality of the Chinese government and sympathetic descriptions of the pro-democracy movement in China in tightly controlled Vietnamese newspapers.
"Some changes are happening here," he says.
Until recently, the Vietnamese media has been extremely careful not to be seen as being critical of China and its policies - especially when it comes to China's domestic politics, which many compare with Vietnam's own issues.
Information on democracy movements in China and Beijing's response to them has been considered sensitive and, more often than not, newspapers in Vietnam would simply quote the Chinese official lines.
But in light of recent developments in the South China Sea, where Vietnamese and Chinese ships have been in a stand-off for a month over an oil rig, the state media in Vietnam has notably changed its rhetoric about China.
---
Tiananmen protests
From 1978, China opened up its economy to the world, but communists maintained total control over politics
In 1989, hundreds of thousands gathered in Beijing's Tiananmen Square to call for political reform
Protesters remained in the square for weeks while a power struggle raged within the ruling Communist Party
Hardliners prevailed and gave the order to remove the protesters by force; hundreds were massacred in nearby streets
Chinese media quiet on anniversary
In pictures: Tiananmen protests
Struggling against Tiananmen censors
---
The tone has become more critical after some Vietnamese leaders, including Prime Minister Nguyen Tan Dung, publicly called China's decision to move its Haiyang 981 rig into the waters claimed by both countries "a serious violation of Vietnam's sovereignty and a major threat to regional peace and stability".
Most recently on Thursday, Vietnam's state television (VTV) showed a video in which a large Chinese ship was seen chasing and later sinking a small Vietnamese fishing boat at a location near the oil rig.
Censorship or not?
The VTV report called this an "unarguable evidence of the inhumane actions of China against Vietnamese fishermen" while the Chinese government maintained that its vessels were "only in a defensive mode".
China, which claims sovereignty over most of the South China Sea, has announced that the Haiyang 981 rig will continue operating in the area until mid-August. This, observers say, will lead to more protests on the Vietnamese side with the Vietnamese government threatening to take Beijing to the international court if necessary.
But questions remain, such as to what extent will this critical coverage of China by Vietnamese media be allowed to continue?
Articles on the Tiananmen crackdown were taken down from most of the official media websites only hours after they were published.
Despite denials by Vietnamese officials that there was any censorship on the issue, some believe that newspapers were ordered to remove their Tiananmen stories.
Some people on Vietnam's social media suggested that conservative elements within the ruling party may have felt uncomfortable with the coverage.
A veteran journalist in Ho Chi Minh City, who wishes to stay anonymous, says: "They [the government] are worried that if this anniversary is covered too extensively, it may have a big influence on readers' minds and make it more difficult for Vietnam to manage its own domestic politics".
The journalist argues that once again the Vietnamese leadership has to seek to balance the anti-China sentiments in the media and amongst the population with the "apparent pressures from China in the wake of recent riots in Binh Duong and Ha Tinh provinces".
Last month, violent riots targeting Chinese businesses and citizens erupted in some industrial zones in southern and central Vietnam, killing at least four people.
Beijing condemned the riots and evacuated thousands of Chinese workers from Vietnam.
These recent developments have complicated the situation for the authorities.
Five years ago, the Tiananmen anniversary went almost unnoticed in Vietnamese newspapers and there were no arguments about whether it should be covered or not.