South Korea cabinet reshuffle after ferry deaths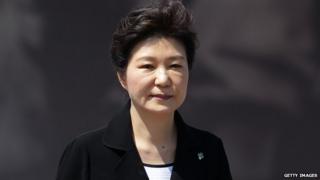 South Korea's president has revamped her cabinet in an apparent bid to win back public support after April's Sewol passenger ferry disaster.
Park Geun-hye replaced seven members of her cabinet and appointed six new ministers.
The shake-up is Ms Park's first major shuffle since taking office last year.
She has been criticised for her handling of the ferry disaster, which left at least 292 people dead, most of them school students.
Her ruling conservative Saenuri party made a strong showing in local elections last Thursday, winning eight of 17 main contests for city mayors and provincial governors.
Following this, Ms Park nominated a new prime minister on Tuesday to replace Chung Hong-won who resigned amid criticism of the government's handling of the ferry sinking.
She also replaced her defence minister and intelligence chief.
Analysts say the political reshuffle is seen as Ms Park's efforts to move on from the ferry disaster.
Meanwhile, the mother of a student has filed the first lawsuit in the ferry tragedy, suing both the ferry company and the South Korean state for $30,000 in damages.
Court officials said the figure could be adjusted higher, with some reports speculating that it could rise $600,000, reports the BBC's Lucy Williamson in Seoul.
The boy's mother said she had gone through "unbearable mental suffering" and blamed the ferry company for not training its staff properly as well as the state for failing to regulate the industry, local media reported.
Nationwide manhunt
South Korean authorities have also stepped up efforts in accounting for the ferry disaster.
Police officers on Friday arrested the brother of fugitive billionaire Yoo Byung-eun, who is thought to own the firm that operated the sunken ferry.
Thousands of officers dressed in riot gear had earlier raided a religious compound in in Anseong city, in search of Yoo who is still at large.
Five Church followers were detained on charges of assisting Yoo's escape and hundreds of others rallied against the raid.
His daughter Yoo Som-na was detained in Paris in May and is facing extradition to South Korea.
On Monday, 15 South Korean crew members went on trial over the deaths of the ferry victims.
If convicted, Captain Lee Joon-seok, 69, and three crew members could be handed the death penalty, but observers say it is extremely unlikely it would be carried out.