Pakistan army launches 'major offensive' in North Waziristan
15 June 2014

From the section

Asia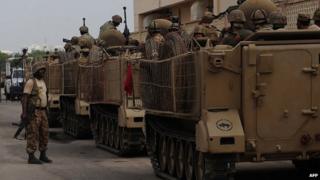 Pakistan's army says it has launched a "comprehensive operation" against militants in North Waziristan, near the Afghan border.
It comes hours after fighter jets carried out air strikes against militant strongholds in the area.
Officials said scores of insurgents were killed in the air raids but this has not been independently confirmed.
Among them was a suspected Uzbek leader of the deadly attack on Karachi airport a week ago, they added.
At least 28 people were killed in the airport attack, as well as all 10 gunmen.
Tanks and troops
The BBC's Mike Wooldridge in Islamabad says a large-scale military offensive in North Waziristan has long been mooted and air strikes in the region have intensified since the attack on Karachi.
It is not clear how many ground troops will be involved, he adds, but military experts warn it will be a complex and challenging operation.
The US has long pressed for such an operation in North Waziristan, one of the last areas in the restive north-west where a large-scale push against insurgents has not taken place.
"On the directions of the government, armed forces of Pakistan have launched a comprehensive operation against foreign and local terrorists who are hiding in sanctuaries in North Waziristan," a military statement said.
The army later said troops had encircled militant bases in the towns of Mirali and Miranshah but it was unclear if fighting was under way. Afghan security forces have been asked to to seal the border on their side, officials said.
The operation is said to involve the air force, artillery, tanks and ground troops.
A further statement from the office of Prime Minister Nawaz Sharif said the government had tried to resolve the crisis through dialogue - a reference to peace talks with the Pakistani Taliban that began earlier this year - but it had been frustrated by continued attacks.
Sunday's air strikes that preceded the ground offensive were in the mountainous Dehgan area of North Waziristan.
The army said eight militant hideouts were destroyed killing 105 "terrorists", most of them Uzbeks. The statement said among the dead was Abu Abdul Rehman al-Maani, an Uzbek believed to have helped organise the airport assault.
Al-Maani is considered a key commander of the Islamic Movement of Uzbekistan (IMU).
The IMU was formed in 1991 with the aim of setting up an Islamic state in the central Asian country of Uzbekistan.
However, it later broadened its ambitions to seeking an Islamic state across Central Asia. The US State Department designated it as a foreign terrorist organisation in 2000.
Sunday's air strikes were the second in the region this week in response to the attack by the Pakistani Taliban (TTP) on Karachi airport last Sunday.
The TTP said Uzbek fighters took part in the assault which was in revenge for the killing of their leader last year.
Pakistan has been fighting an Islamist insurgency for more than a decade, with the Pakistani Taliban the main militant grouping.