Pakistan jet attack: Hunt for Peshawar gunmen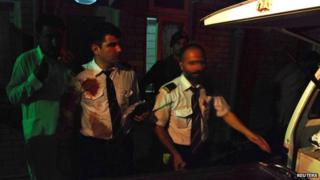 Pakistani security forces are searching for gunmen who attacked a passenger plane as it came in to land on Tuesday.
A woman travelling on the Pakistan International Airlines flight from Riyadh in Saudi Arabia was killed. At least two others on board were injured.
The attack has sparked renewed alarm about three weeks since gunmen stormed Karachi airport killing 29 people.
The army has responded with air strikes against the Pakistani Taliban in the tribal areas adjoining Peshawar.
The movement has threatened to mount more attacks in revenge.
Peshawar airport came under Taliban rocket attack in December 2012 - four civilians were killed. The airport is used as a base by the Pakistan Air Force as well as for commercial flights.
Flight PK756 from Riyadh in Saudi Arabia had 178 passengers on board.
It was hit by a volley of machine gun rounds as it came in to land at Peshawar. Police say one bullet narrowly missed the captain, but a Pakistani woman passenger was fatally wounded when shots penetrated the cabin.
Her nine-year-old daughter, sitting next to her, cried "my mother is dead" as security forces boarded the plane.
No-one has been detained so far and reports say flights at Bacha Khan airport have resumed.
'Panicked'
Reports quoting police say either five or eight bullets hit the plane. Airline officials say the shots were fired from outside the airport when the jet was still some 100m (300 feet) above the ground.
The jet suffered a heavy landing, injuring a number of other passengers, but the pilot won praise for bringing the aircraft down safely and avoiding catastrophe.
PIA official Mohammad Kifayatullah Khan told Reuters he had entered the plane and saw the fatally injured woman on her seat.
He said: "All the passengers were panicked. Some of them wanted to get out as soon as possible because they were afraid of fire inside the plane."
A deadly attack by militants on Karachi airport this month sparked an army offensive against insurgent positions in the North Waziristan region.
Pakistan's army launched the offensive more than a week ago, bombarding Taliban targets in the tribal area.
Some 450,000 people have since been displaced, many arriving at the town of Bannu in overloaded vehicles.
Local officials say they are doing everything they can to deal with an unfolding humanitarian crisis.
The offensive began after the attack on Karachi's Jinnah international airport, which an Uzbek militant group and the Pakistani Taliban said they had carried out.
The attack signalled an end to an already faltering peace process between the government and the Pakistani Taliban.
In another sign of the militants fighting back, Tuesday saw Pakistan's suicide bombing since the offensive began. The bomber killed two soldiers and a civilian near a checkpoint at Spinwam in North Waziristan.