Afghan poll: Abdullah supporters march against 'fraud'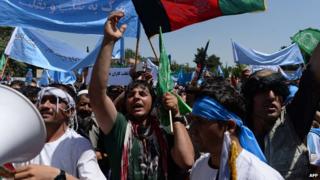 Thousands of supporters of Afghan presidential candidate Abdullah Abdullah have marched through Kabul to protest against alleged fraud.
The protesters, who were joined by Mr Abdullah, echoed his claims that the 14 June vote had been rigged against him.
Vote counting shows that Mr Abdullah is trailing his rival, Ashraf Ghani, who has also complained of fraud.
The dispute has revived fears for Afghanistan's stability after the withdrawal of US-led forces this year.
The head of the United Nations mission in Afghanistan, Jan Kubis, has warned that a contested election result could inflame ethnic tensions and lead to "a slide into violence".
US-led troops and Afghan forces have been battling Taliban insurgents across much of the country.
The Afghan government has yet to ratify a deal that would permit a smaller number of US troops to remain in the country beyond 2014.
'Ballot-box stuffing'
More than 10,000 people are estimated to have taken part in Friday's demonstration in support of Mr Abdullah.
The protesters chanted slogans against Mr Ghani and the election commission, whose officials have been accused of orchestrating mass fraud by stuffing ballot boxes.
For the first time, Mr Abdullah joined the protest, riding aboard a small truck and waving a flag. He has not taken part in previous, smaller protests over the alleged fraud.
His supporters recently released an audio recording which appeared to implicate a senior election official in ballot-box stuffing.
Mr Abdullah said he would no longer co-operate with the election commission because of the alleged fraud. He also urged the United Nations to intervene to salvage the election.
A preliminary result for the second round of the presidential election is due on 2 July. The final result, following the adjudication of complaints, is due on 22 July.