Pakistan Lahore court indicts five over honour killing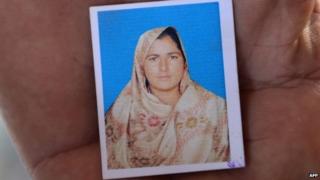 A Pakistani court has charged five men, including a father and two brothers, for the murder of a woman beaten to death outside a Lahore court for marrying without their consent.
Farzana Parveen, who was three months pregnant, was pelted with bricks and bludgeoned to death.
Witnesses have been told to deliver statements before the Lahore High Court court on Monday.
The killing triggered fury in Pakistan because of its cruel and brazen nature.
It was all the more controversial because Ms Parveen's husband alleged that police had done nothing to save her.
"The court today indicted the father, two brothers, one cousin and ex-husband of the victim for murder, torture and terrorism," investigator Mian Zulfiqar told the AFP news agency.
Prime Minister Nawaz Sharif demanded "immediate action" over the murder, which drew international criticism.
The US described the killing in May as heinous while UN human rights chief Navi Pillay described it as "deeply shocking".
There are hundreds of so-called "honour killings" in Pakistan each year.
Arranged marriages are the norm in Pakistan and marrying against the wishes of the family is unthinkable in many deeply conservative communities.
Ms Parveen came from a small town outside Lahore. According to reports, her family was furious because she decided to marry Muhammad Iqbal instead of a man they had chosen.
Her relatives then filed a case for abduction against Mr Iqbal at the High Court.
Honour killings in Pakistan
•In 2013, 869 women murdered in so called "honour killings"
•Campaigners say real number is likely to be much higher
•Of these, 359 were so called "Karo Kari" cases, where family members consider themselves authorised to kill offending relatives to restore honour
•Rights groups say conviction rate in cases of sexual and other violence against women is "critically low"
Source: Human Rights Commission of Pakistan annual report 2013
The newlyweds were only at the Lahore court to contest the family's case. Ms Parveen had already testified to police that she had married of her own free will.
Mr Iqbal told the BBC that when the couple had arrived at the court on 27 May, his wife's relatives were waiting and tried to take her away.
As she struggled to free herself they dragged her to the floor, pelted her with bricks and then smashed her head. He said that she died on the pavement.