Pakistan Eid: At least 20 bathers drown in Karachi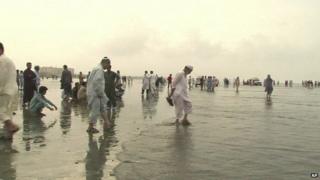 At least 20 bathers have drowned and three are still missing in rough seas off the Pakistani city of Karachi despite a ban on sea swimming during the monsoon, officials say.
The bathers were among thousands who flocked to Clifton Beach to celebrate the Muslim festival of Eid al-Fitr.
The victims include three members of the same family, as well as a 12-year-old boy, according to local media.
A ban on sea swimming was imposed at the start of monsoon season in June.
A search operation is under way with the help of navy divers and a helicopter, Karachi commissioner Shoaib Ahmed Siddiqui said.
The victims ignored safety warnings and drowned in high winds and strong currents, he added, quoted by Associated Press.
Two of the bodies were recovered from another beach at Hawke's Bay, Dawn news website reports.
"The government imposed a ban on swimming in the sea before the start of the monsoon season in June and police were deployed to implement the ban, but people became violent," senior police officer Ibadat Nisar is quoted by AFP news agency as saying.