Afghan candidate claims poll fixed after 'leak'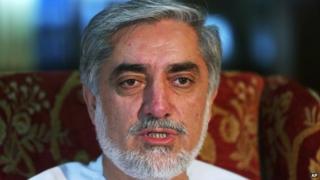 One of Afghanistan's presidential candidates has aired a tape that he claims is proof of an agreement to fix the election in favour of his rival.
Abdullah Abdullah said the leaked tape showed that the international community as well as the current president, had been colluding in order to ensure the success of his rival, Ashraf Ghani.
A spokesman for Mr Ghani denied the claim, calling the recording a fake.
Earlier both candidates agreed that a full audit of votes should resume.
Preliminary results suggested Mr Ghani had won June's election, but both candidate have accused the other of electoral fraud.
The alleged leak tape claimed to show current vice president Karim Khalili telling election workers of secret deal to fix the election in favour of Mr Ghani.
Abdullah Abdullah's campaign manager said the recording showed that "the election result has been decided already with the consultation of the government and the international community".
The claim was vehemently denied by Mr Ghani's spokesman, Abbas Basir.
"I want to announce solemnly that the audio file related to his excellency the second vice president of the Islamic Republic of Afghanistan Mr Khalili is fake" he said.
How rival candidates compare
Ashraf Ghani
Abdullah Abdullah
Technocrat and former World Bank official. Open to talks with Taliban
Former anti-Soviet resistance member. Wary of Taliban talks
Leading in Pashtun-dominated southern provinces
Ahead in mainly Tajik northern areas
Backed by Rashid Dostum, an Uzbek ex-warlord accused of human rights abuses
Supported by wealthy Balkh governor Atta Mohammad, a bitter Dostum rival
Has support of Qayyum Karzai, brother of President Karzai
Also has backing of Mohamed Mohaqiq, powerful leader of ethnic Hazaras
Ahmed Zia Masood, whose brother was a famous resistance hero, helped balance ticket
Gul Agha Sherzai, an influential Pashtun, helped bring ethnic balance to ticket
The review of all 8m ballots had stalled amid disagreements over observers and procedural issues.
It restarted on Sunday without the approval of Mr Abdullah.
But international officials said that both candidates have now agreed to the terms of a total audit.
Afghanistan's current President Hamid Karzai, who came to office after the US-led overthrow of the Taliban, is stepping down after more than 10 years.