Furore in South Korea over soldier's 'bullying death'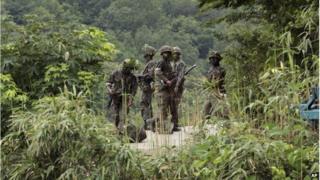 A military conscript's death has triggered outrage in South Korea following allegations that he was abused by fellow soldiers.
A human rights group said he had died in April from blows to the head, contradicting the army's conclusion that he had been asphyxiated.
Six soldiers have been arrested and four of them face manslaughter charges.
His death follows an incident in June where a conscript who was allegedly bullied shot dead five colleagues.
The 23-year-old conscript who died in April has only been identified by his surname Yoon.
Mr Yoon was struck in the chest by his colleagues while he was eating some snacks, the army said. This reportedly caused a piece of food to obstruct his airway and he died from asphyxiation.
But the the Center for Military Human Rights Korea disputed this account, saying Mr Yoon was repeatedly beaten on the head by his sergeant and showed signs of concussion before losing consciousness.
The group is calling for the suspects to be charged with murder instead of manslaughter.
The incident has triggered severe criticism of the military and widespread concern about conscript abuse. Military conscription is compulsory in South Korea.
Toothpaste, spit and ointment
Last week the centre released details of an army investigation showing that Mr Yoon had been the target of regular bullying for more than a month, according to The Korea Times.
It showed photos of the soldier when he was taken to hospital, showing bruises all over his body.
The investigation showed that senior soldiers had repeatedly beat him and forced him to stay awake till late at night.
He was once made to hold a horse-riding stance for over three hours, made to swallow a tube of toothpaste and ordered to lick spit off the floor.
He was also said to have been sexually harassed, with ointment applied to "his sexual organ", the Korea Times reports. The army has since charged one of the six suspects with sexual assault.
Four of the six are charged with manslaughter, while two are charged with assault, according to state news agency Yonhap.
'Special lessons'
Defence Minister Han Min-koo has apologised and President Park Geun-hye has called for a thorough investigation to ensure such incidents do not recur.
The army has launched a task force to reform military culture and all military personnel are due to receive a one-day special human rights lesson this week.
In June a military conscript shot dead five of his colleagues and fled his post near North Korea's border, sparking a massive manhunt. He was eventually captured after he tried to shoot himself.
Local media said he had been allegedly bullied before the incident, and officials were quoted as saying he had had "difficulties" adapting to military life.