Afghan election: Kerry to meet feuding rivals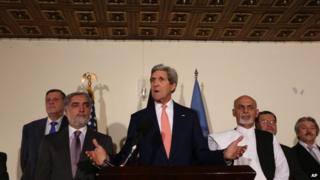 US Secretary of State John Kerry has arrived in Afghanistan to try to resolve the crisis surrounding the recent disputed presidential poll.
He will meet presidential rivals Ashraf Ghani and Abdullah Abdullah on his two-day visit to discuss recounting votes.
Since Mr Kerry's last visit on 12 July fewer than 4,000 of nearly 23,000 ballot boxes have been rechecked.
Disagreements over talks brokered by Mr Kerry on a national unity government have emerged between the two camps.
Afghanistan's presidential rivals agreed to the vote audit during Mr Kerry's last visit and both contenders said they would abide by the result.
All 8m ballots are being reviewed in an attempt to resolve the dispute over the result of the 14 June second round.
Preliminary results announced by Afghan election officials gave Mr Ghani 56.44% of votes in the June run-off, with Mr Abdullah gaining 43.45%.
But both candidates accuse the other of electoral fraud.
The results were markedly different from those achieved in the first round of voting, held in April, when Mr Ghani came a distant second.
Mr Kerry flew in just two days after an Afghan soldier killed a US general in an "insider attack" at a UK-run military training facility.
Gen Greene was the most senior US soldier killed in action overseas since Vietnam.
All Nato combat troops are due to leave Afghanistan by the end of the year.
A crucial security deal to allow for some US troops to remain beyond that remains in limbo.
Both candidates have said they will sign it - but correspondents say the timetable for President Karzai handing over to a successor is looking increasingly tight.
He was due to transfer power at the start of this month.