Worlds apart: From Gaza to Sydney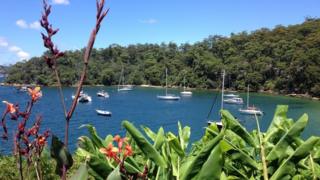 The ocean, flat, soothing and expansive, is one of the world's great levellers. It can be beautiful wherever you are.
A few weeks ago I was sitting by the shore in Gaza on a summer evening looking out west over sun-kissed waves, the chaos and carnage of the war at my back momentarily fading away.
This week, I sat by the shore in Sydney on a bright winter's day looking east, the waft of grilled lobster and calamari from the expensive harbour-side restaurants drifting over my shoulder.
Two wonderful ocean views. A world apart.
If you like the sea, Sydney is the place to be. Its endless beaches, meandering coastal walks through lush bush and along rocky crags are one of the reasons the city is often voted among the world's most desirable places to live.
Why wouldn't you want to come here? To the lucky country?
And indeed, Australia is a place of migrants.
Until the age of aviation and aside from the indigenous Aborigine population, everyone here came over the waves by boat: Irish, Scottish, English, Welsh, Italians, Greeks, Lebanese. All of them sea-faring folk.
But now "stop the boats" is the political slogan that resonates from these shores to the world beyond.
Australia's conservative government was elected a year ago on a promise to bring an end to the flow of asylum seekers and refugees trying to reach this country by sea.
And the politicians have honoured their pledge.
A series of tough anti-asylum seeker policies means the number of people arriving has fallen to almost nothing.
"National shame"
The government argues that it has stopped hundreds from drowning at sea at the hands of people-smugglers.
It says it wants asylum seekers to try to come here through what it calls the proper channels.
But all this has come at a cost.
This country of migrants has now been branded by some as racist, callous and inhumane, a "national shame" in the eyes of many.
There are now thousands of asylum seekers being held in grim offshore detention centres - such as Manus Island in Papua New Guinea -with no prospect of ever being settled in Australia.
Recently a group of Christian leaders accused the government of "state-sponsored child abuse" over its detention of thousands of asylum-seeking children.
Documents have emerged here showing Australian officials are working with the Syrian Embassy of President Bashar al-Assad to repatriate people back home as their country descends into further mayhem.
For many of the Syrians in detention centres, the last thing they want is to be sent back or for their names to be handed over to the Syrian authorities.
Challenges
Of course the issue of immigration and asylum seekers is not unique to Australia.
Britain, France Italy, Israel, America, Germany are all experiencing similar challenges.
But in Australia the numbers are relatively small.
The United Nations High Commission for Refugees Global Trends report says at the end of last year there were around 48,000 refugees or asylum seekers with pending cases here.
In Britain the number was 150,000. France 280,000. Germany 330,000.
And all these developed countries pale in comparison to the world's most accommodating countries when it comes to housing refugees and asylum seekers.
Pakistan, 1.6 million. Lebanon 800,000. Jordan 600,000.
'White Australia'
One of the things I love the most about Sydney is how cosmopolitan it feels.
I buy my newspaper in the morning from an Egyptian, I can order bagels for breakfast in Hebrew in Bondi, I eat dim sum dumplings for lunch in Chinatown and wood-fired pizza served by Neapolitans in the evening.
And this is a country that until a few decades ago still had a racist "white Australia" immigration policy. Yes, that really was what it was called, favouring European pale-skinned migrants.
Things have thankfully changed since then but although the "stop the boats" policy has attracted international criticism, polls show domestically the majority of Australians back it.
A country of migrants doesn't want any more to come here. At least, no more of those who arrive illegally by boat.
But on the shores of Syria, Sri Lanka, Somalia and Gaza there will be those looking out to the horizon who would give anything to escape their lives.
Not long ago I was by sitting by the beach in Gaza drinking sweet sage tea watching the waves, among generous people who had lost almost everything.
The other day in Sydney by the sea, I was invited to a corporate event at the famous Opera House to taste a bottle of whiskey apparently worth a quarter of a million dollars.
The lucky country.