Anger over Indonesian democratic reversal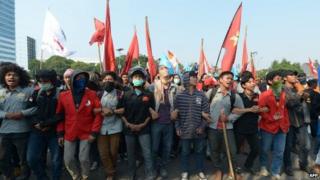 In the early hours of Friday morning, Indonesia's House of Representatives did the unthinkable - passed a bill abolishing direct regional elections by an overwhelming majority.
Two hundred and twenty six members of parliament voted in favour of scrapping these local polls, while 135 voted against it.
The decision was met by public outrage. Many Indonesians have taken to social media to express their anger. #RIPDemokrasi has become a trending topic on Twitter in Indonesia, and some Indonesians have put up black boxes as their profile picture on Facebook in protest.
But why are people so angry?
Arif is 26 years old, and a barista at a coffee shop in central Jakarta.
"I think this is a huge step backwards for Indonesia," he said. "It's like going back to the Suharto era. Why are we going back to the times of dictatorship? There were many flaws in that system. This is a very bad decision."
Under Suharto's 32 year-long regime, local leaders were appointed by local parliaments - a system which experts say engendered nepotism and cronyism.
Direct elections for mayors, regents and governors began in 2005 as part of Indonesia's post-Suharto democratic transition.
But in recent years there has been criticism by some of Indonesia's politicians that the local polls are too expensive, and in many cases have led to corruption.
In every five year period there are 542 local elections, costing the government 70 trillion rupiah ($5.8bn: £3.6bn), according to the interior ministry. Some estimates show that more than 50 per cent of locally elected leaders have been accused of corruption.
'Suffocating politics'
The bill to scrap direct regional elections was supported by a coalition of parties whose candidate, Prabowo Subianto, was defeated in July's presidential elections.
His party, Gerindra, now leads the coalition that forms the majority in parliament and will effectively have the biggest say in the appointments of regional leaders.
"We vote our representatives in and then those representatives on behalf of me as a voter will elect the mayor or the regional head, so I don't think this is something to do with constitutional rights," said Fadli Zon, Gerindra's vice-chairman. "This is just the more effective way. I think it is also justified in many democratic countries."
But analysts say this is a calculated move to ensure that politics is kept in the hands of the powerful.
"Ending direct local elections will suffocate small parties," said political analyst Evan A Laksmana from the Centre of Strategic Studies on his official Twitter feed.
"It will perpetuate corruption through big parties in Jakarta controlling local parliaments."
Joko Widodo, Indonesia's incoming president is a product of direct regional elections - a reform that analysts say introduced fresh blood to Indonesian politics, which has been dominated by the political elite.
There is still a possibility this decision could be overturned. Some locally elected Indonesian politicians have indicated they will appeal this decision in the constitutional court. It is not clear what grounds the appeal would be filed on, but the decision from the constitutional court is final.