Japan's Shinzo Abe picks new ministers after resignations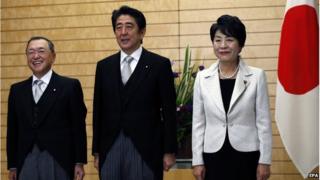 Japan's Prime Minister Shinzo Abe has appointed new trade and justice ministers following the resignations of two members of his cabinet on Monday.
The new economy, trade and industry minister is Yoichi Miyazawa, 64, who replaces Yuko Obuchi.
Yoko Kamikawa, 61, now leads the justice ministry, taking over from Midori Matsushima.
The resignation of both women was a setback for Mr Abe's aim to increase female representation in government.
They were among five women appointed by Mr Abe in his cabinet reshuffle last month, with Ms Obuchi tipped by some as a future prime minister.
But allegations emerged last week that Ms Obuchi's staff had misused thousands of dollars of campaign funds.
Ms Matsushima had come under fire for an apparent violation of election laws and rules on usage of political funds.
Mr Miyazawa, a former vice-minister for the economy whose uncle is a former prime minister, said on Tuesday that he would continue with plans to restart nuclear reactors which have been deemed safe.
The move is seen as controversial given safety fears following the Fukushima disaster.
"We must take swift action to deal with nuclear disasters. We also have to do our best to rebuild Fukushima," he said in remarks reported by NHK.
Ms Kamikawa, a former gender equality minister, told reporters she would do her best for women in Japan to "use their strengths to get ahead in society".