Pakistan militants 'killed' in Khyber fighting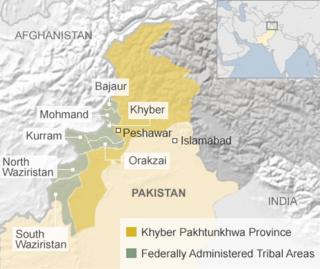 The bodies of at least 17 suspected militants have been recovered in Pakistan's restive Khyber tribal agency, the army says.
It says that the militants were killed as they tried to attack a checkpoint.
The fighting took place in an area bordering Afghanistan that is now being targeted by the military in a push to drive out Taliban militants.
The Taliban have not commented on the army's claims and there is no way of independently verifying them.
The army did not say if it had suffered any casualties.
Journalists are prevented from travelling to Pakistan's tribal regions.
Friday's attack came shortly after the Pakistani Taliban announced they would be deploying more fighters to Khyber to assist local militants fighting the security forces.
An army statement said that the attack on the checkpoint was "valiantly repulsed" and the "terrorists ran away" leaving behind 17 bodies of their associates.
The region has seen fierce fighting since October as the army and militant groups vie to control the area, forcing thousands of civilians to flee.
Correspondents say that local and foreign militants use the area at the centre of the latest fighting as a base to launch attacks in Pakistan and neighbouring Afghanistan.