Afghanistan Kabul attack victim Qudsia scholarship appeal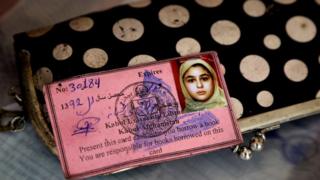 A young Afghan woman killed in a suicide attack on Sunday has become the focus of a campaign to create student scholarships in her name.
Qudsia, a student at Kabul University, died when a bomber tried unsuccessfully to kill MP Shukria Barakzai.
Pictures of Qudsia went viral on social media, inspiring a drive to launch six scholarships for female students.
Afghan attacks kill hundreds each year but such a response is rare - Qudsia has become a symbol of the many dead.
Qudsia, 21, was going to the mosque on Sunday when the suicide bomber blew himself up.
The attack attracted international media coverage because its target was such a well-known female MP.
Media attention focused on Ms Barakzai, who was injured but survived. Qudsia was one of three civilians who died.
Hours after the attack, a photograph of Qudsia began to circulate on social media in Afghanistan and soon went viral.
Outrage at the young psychology student's death was compounded by the fact her body was left lying in the road for some time afterwards.
'Qudsia's case resonated'
Zuhra Bahman, an Afghan writer who is now studying in London, told the BBC that she suggested on Facebook that some scholarships for female students should be set up in Qudsia's name. She soon started to receive offers of support in response.
She recalled a security incident in front of her own school in the 1990s. Afterwards, no-one, including her, was allowed to attend school because their parents were too worried about their safety.
"One loss is the loss of life," she said. "But the other loss is that, as a result of this, a lot of girls are forced to abandon their education.
"I didn't want this girl's decision to get an education and die in the process, I didn't want that to result in other girls becoming housebound."
Ms Bahman said there were several reasons why Qudsia's case had resonated with people.
"A lot of people looked at this case because a prominent, very vocal MP was involved," she said.
"Also, Qudsia comes from a relatively poor family and the fact she was studying at Kabul University, which is very hard to get into nowadays, shows she was very intelligent.
"And she had memorised the Koran which shows she was a religious woman. All this makes people sympathetic."
Analysts say the fact the attack was in Kabul also gave it a high profile and meant that journalists had easy access to the scene.
The BBC's Kawoon Khamoosh visited Qudsia's family. Her father, Omar Akbari, said his daughter's ambition was to work in a government ministry to help her country.
"She said she wanted to get a degree," he added, "so she could help her family and rescue it from poverty."
Growing engagement with social media, especially Facebook, in Afghanistan means that images and information concerning civilian deaths can now spread quickly.
The fund-raising appeal eventually hopes to award six scholarships a year to female students.
Three will cover fees and living costs in Kabul and another three or four will be awarded to female students who have free admission to university but still need support with the cost of accommodation and food.
The BBC's Jill McGivering contributed to this report