South Korea approves new 'Christmas tree' at border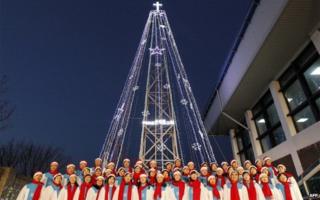 South Korea has given permission to a Christian group to construct a new Christmas tree-shaped tower near the border with the North, officials said.
An existing 60ft (18m) high tower, which had been lit up in the past at Christmas, was dismantled in October after the South said it was not safe.
The North, which is officially atheist, viewed the tower as propaganda warfare and had threatened to shell it.
Inter-Korean relations are deadlocked after cancelled talks.
The North has also been angered by a United Nations resolution condemning the human rights situation in the communist country.
'Promoting peace'
South Korea's Yonhap news agency said the old tower, which was located about 3km (1.9 miles) from the border, was built in 1971.
It was on top of a hill in Gimpo, west of Seoul and could be seen from the North.
In 2010 the tree tower was lit up and Christians sang hymns front of it.
The government said it was removed by the army because it did not pass safety checks and could collapse.
Observers, however, said the taking down of the tree could have been a move to improve relations with North Korea.
South Korea's defence ministry has now given approval to the Christian Council of Korea (CCK) to build and light a new smaller tower.
The "tree" will be 30ft (9m) tall, CCK said, and will be lit for two weeks starting 23 December. CCK said the move was aimed at promoting peace.
Ministry spokesperson Kim Min-seok told AP news agency the approval was aimed at guaranteeing religious freedom.
North Korea had warned last month against any attempt to reinstall the tower, with state media calling it "a symbol of manic attempts to raise cross-border tension and provoke armed conflicts," the AFP news agency reports.