China Week: 'Peng Mama' and 'can-do spirit'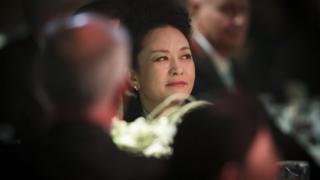 I've been on the road in Xinjiang this week, half my attention on the stories I'm trying to cover from Kashgar and the other half anxiously scanning the horizon back east.
Because we have to renounce our passports for three weeks to renew our resident journalist credentials, we're unable to get to Hong Kong right now.
So I've been brooding over that from afar, along with the war of words between Beijing and Westminster over who's being "confrontational".
Away from the headlines of the week, these were the stories that caught my eye:
"Peng Mama"
First lady Peng Liyuan has trumped last month's viral video "Xi Dada loves Peng Mama" with a music video of her own.
Who could blame her? She doesn't look like the kind of woman who would let some two-bit croaking animator define her style.
So this week's video was released on World Aids Day and shows a radiant Peng hugging infected children, teaching them piano and tying their shoelaces.
It's dedicated to raising awareness of HIV/AIDS and ending discrimination against sufferers. And it's the first public performance of the one-time celebrity folk singer since her husband became China's Communist Party leader and president.
It's always been clear that "Peng Mama" was an asset with her celebrity voice, glamour and poise.
But her profile as first lady has rocketed over the past month, with a central role on the red carpet at Beijing's APEC summit, followed by the G20 in Brisbane and tour of Australasia.
Amid all the talk about the first lady's contribution to China's "soft power" my guess is that there's a fair amount of hard power behind that smile.
'Can-do' spirit
Turning from the formidable first lady to the formidable first husband: Xi Jinping has had his admirers this week, not least President Obama.
The latter told business leaders in Washington he was impressed by the Chinese president's "can-do spirit" and by "his clout inside of China".
It wasn't just Xi Jinping but China as a whole.
Reflecting on last month's visit to Beijing, Mr Obama compared China's performance on infrastructure with that at home in the US.
"It's embarrassing. You know, you drive down the roads and you look at what they're able to do."
Tech move
Were Intel listening? This week the world's giant chip-maker said it would bring its most advanced chip-testing technology to China.
"Deploying our newest advanced testing technology in China shows our commitment to innovating jointly with China," said company Vice-President William Holt.
A $1.6bn (£1bn) investment surely shows commitment, and semiconductors are China's latest big new "strategic sector".
The plant is in Chengdu in China's southwest and it's always interesting to watch how much multinational high tech is heading in that direction.
But I recently had an interesting conversation with a senior manager from another big American tech firm who told me gloomily that 99% of all the world's high tech counterfeits come from China and that at the end of the day China "will eat everyone's lunch in this business".
Constitution day
The fourth of December saw the country's first "Constitution Day", trumpeted with a speech from Xi Jinping calling for better awareness of both the constitution and the rule of law.
But ironically, China's biggest search engine Baidu banned users from setting up forums on the constitution or constitutional governance.
Article 1 of China's constitution describes the country as a "socialist state under the people's democratic dictatorship". And many of the country's most prominent lawyers spent Constitution Day in jail.
Lawyers featured in another interesting story.
Education officials in southwest Guizhou Province had asked universities to install CCTV cameras in all lecture halls and tutorial rooms "to build an all-round oversight system for teaching quality control".
Four lawyers have now written to Guizhou's education authorities asking them to explain the legal basis for spying on teachers, insisting that the right of educators to basic freedoms in running their classes is enshrined in the constitution. That constitution again!
The Guizhou row comes on the heels of another controversy over spying in class.
The Communist Party's Liaoning Daily newspaper had sent reporters into universities undercover and then published an "open letter" calling on professors and lecturers not to criticise the country to their students.
Expect this debate about classroom freedom to continue well into 2015 as it's all part of Mr Xi's push for "positive energy" in cyberspace, the arts and education.
The upbeat tone of the China Dream.
Bull market
So with "positive energy" in mind, how about a bull market on the Shanghai stock exchange? Even talk of an ultra-bull, with reports of speculators dumping real estate investments to throw money at the stock market.
It was the most exuberant week for mainland indexes in more than five years.
I will not hazard any assessment of where this is going but let me know if you have any insights!
For more from Carrie Gracie, you can follow her on her Twitter account.