AirAsia QZ8501: Bad weather prevents tail retrieval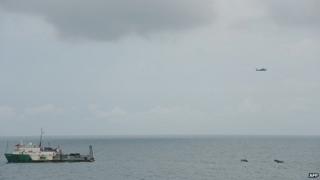 Strong currents and poor visibility have prevented the recovery of the tail of an AirAsia plane carrying 162 people that crashed into the Java Sea.
The rear part was seen by an unmanned underwater vehicle on Wednesday, the first significant debris found.
Authorities believe it is upside down and partially buried, making removal difficult.
The tail holds the crucial flight data recorders which could reveal the cause of the 28 December crash.
AirAsia flight QZ8501 was going from Surabaya, Indonesia to Singapore during stormy weather when it disappeared from radar.
The rear part of the plane has the AirAsia mark on it and is at a depth of about 30m (98ft), authorities say.
Divers attempted to get to the location of the tail, an area some 30km (19 miles) from the initial search area, but were not able to make any progress because of the strong currents.
The BBC's Alice Budisatrijo was on board an Indonesian warship tasked with retrieving the tail. She said divers planned to tie a rope to the tail section and then use an inflatable device to pull it out of the water.
However, the currents were too strong for the divers to get near the wreckage.
On Thursday authorities confirmed to the BBC that another body had been found, bringing the total number of recovered bodies to 41.
Search and rescue officials believe many more bodies could still be in the fuselage of the plane, which has yet to be located.
Weather conditions, including high waves and strong currents, have been a constant obstacle for the search teams which involve more than 30 ships from various countries