South Korea's Park 'open' to meeting with North leader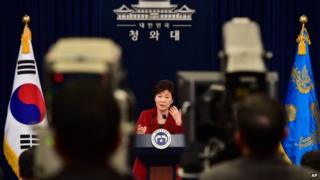 South Korea's President Park Geun-hye has said she is prepared to hold talks with North Korea's leader Kim Jong-un without setting pre-conditions.
In a nationally televised press conference, she said she would "meet with anyone if necessary to open the path of a peaceful unification".
Mr Kim offered talks if the conditions were right in his new year message.
Leaders of the two countries have only met twice, in 2000 and 2007, since the Korean War which divided the peninsula.
The BBC's Stephen Evans in Seoul notes both Koreas have been using a less belligerent tone towards each other recently.
Peace has not broken out, he adds, but the softer rhetoric may lead to an easing of tension.
Mr Kim had said on 1 January that "depending on the mood and circumstances", there would be "no reason" not to hold a high-level summit on the reunification of the two Koreas.
On Monday, Ms Park delivered her own new year message saying she would set no conditions to the talks, but added that North Korea should take "sincere" steps towards denuclearisation.
North Korea has conducted three nuclear tests in recent years, aggravating relations with the South.
It has offered to put a moratorium on testing nuclear weapons if South Korea halts military exercises it holds with American forces. That offer was rejected and the two allies plan to hold a joint naval drill this week, reported South Korean news agency Yonhap.
Korean-American deported
Ms Park also called on North Korea to "come forward for dialogue without hesitation" on efforts to reunite families separated since the end of 1950-53 Korean War.
The last formal high-level talks were in February 2014, leading to rare reunions for Korean families separated for over 60 years.
But further talks planned in October were dropped after North Korea accused the South of not doing enough to stop activists sending anti-Northern leaflets across the border on balloons.
The two Koreas have technically been at war since the Korean War ended in an armistice rather than a peace treaty.
Ms Park on Monday also addressed the use of a controversial law to deport a Korean-American on Saturday.
The South has put in place a National Security Law which states that anyone who praises North Korea can be jailed for up to seven years.
It was used to deport Shin Eun-mi, on Saturday for speaking positively about life in North Korea in speeches and in online posts. Ms Shin has denied she praised the North.
Critics say the controversial law suppresses freedom of speech. But Ms Park defended its use, saying it was needed to "ensure security in this country as we remain in a standoff with the North".