Indonesia approves corruption suspect as police chief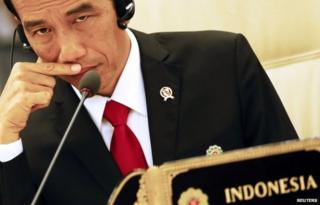 Indonesia's parliament has sparked anger by approving a national police chief who was named as a suspect in a corruption case earlier this week.
Budi Gunawan was accused of taking bribes after it emerged he had assets worth almost $2m (£1.3m) despite having a monthly salary of $1,400.
He was nominated by President Joko Widodo, who was elected last year after promising to eliminate corruption.
Police say an internal inquiry has cleared Mr Gunawan of any wrongdoing.
Surveys suggest Indonesians regard the police as endemically corrupt.
In a poll carried out by campaign group Transparency International in 2013, some 91% said they regarded the police as corrupt - the worst score for any institution.
United parliament
But analysts say Mr Widodo's decision to nominate Mr Gunawan still shocked many of his supporters.
An online petition (in Indonesian) against the appointment has so far attracted 25,000 signatures.
Mr Widodo named him as the only nominee for the post last Friday.
On Tuesday, the anti-corruption commission (KPK) announced they had been conducting an inquiry into his finances since July.
"Commissioner General BG [Budi Gunawan] has been named suspect for allegedly receiving commitments when he headed the Police Headquarters Career Planning Bureau in 2003-2006 and other posts in the police," KPK chairman Abraham Samad said, according to the Antara news agency.
After the KPK's statement, the president said he would wait until parliament had voted before making his final decision.
Mr Gunawan has since passed a fit-and-proper persons test and pledged to root out corruption in the police force.
All major parliamentary blocs approved his nomination.
Mr Widodo is expected to make an announcement on Friday.
Analysts say the choice of Mr Gunawan was largely meant to placate certain factions within the Democratic Party of Struggle (PDI-P), which backed Mr Widodo's bid for the presidency.
The police chief was a close aide of Megawati Sukarnoputri, a former president who leads the PDI-P.