Australia 'will not take' Manus Island asylum protesters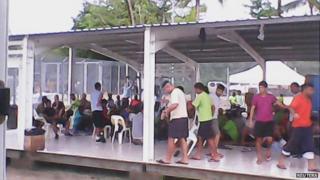 Australia has said it will not admit into the country any asylum seekers who are reportedly on hunger strike at an offshore detention centre.
Immigration Minister Peter Dutton said cases of self-harm had been reported at Manus Island, Papua New Guinea (PNG).
He said "non-compliant behaviour" appeared to have been encouraged by detainee "ring-leaders" and outsiders.
The policy of detaining asylum seekers offshore - intended as a deterrent - has been criticised by rights groups.
Australia sends all asylum seekers arriving by boat to offshore camps in PNG and the Pacific territory of Nauru for detention and processing.
The Manus Island centre was the scene of deadly riots last February, when local residents entered the facility and clashed with detainees. One asylum seeker was killed and at least 70 were hurt in the violence.
'Very bad situation'
Hundreds of asylum seekers have entered a fourth day of hunger strikes to protest conditions at the centre, rights groups say.
On Friday, Mr Dutton acknowledged there had been cases of self-harm at the centre, but said no one had died. The minister, who was appointed last month, told reporters that he was worried about the "volatile" situation.
However, he said the actions of the detainees would not change government policy.
"The absolute resolve of me as the new minister and of the government is to make sure that for those transferees, they will never arrive in Australia," Mr Dutton said at a press conference on Friday.
Under laws brought in by the previous government, none of the people held in offshore camps can expect to be resettled in Australia - even if they are found to be genuine refugees.
Earlier this week, an asylum seeker at the centre said 220 people had gone on hunger strike and more were joining them, according to an audio recording provided by campaign group Refugee Action Coalition.
The asylum seeker said the detainees wanted Australia to hand them over to the United Nations if it was unwilling to accept them.
"We are in very bad situation and we won't go back to our rooms in any condition... we will stay outside until we get our answer," the asylum seeker says, in the recording.
At least 10 detainees are said to have sewn their lips shut in a gesture of protest. The Australian Broadcasting Corporation (ABC) has broadcast unconfirmed reports that some of the men have swallowed washing power and razor blades.
Mr Dutton said on Friday that one detainee had been transferred from the centre for X-rays and more specialised treatment, ABC reported.
Tensions at the Manus Island centre have been growing, with many of its inhabitants now held there for more than 18 months.
The hunger strike is believed to have started after detainees were told they could no longer use running water to wash themselves because of a technical problem.
Detainees are also said to have been angered by reports that some of them will be moved to a separate facility, where they fear they could be vulnerable to attack by locals on Manus Island.
"Things have just come to a head. It's impossible to exaggerate the real fears that people have for their safety and for their lives," the executive director of Refugee Action Coalition, Ian Rintoul, told Reuters news agency.
The government says its tough policies are aimed at ending the flow of boats carrying asylum seekers, so that no more people die making the dangerous journey to Australia.
Only one such boat reached Australia during 2014, compared with the 401 which successfully reached shore in 2013, according to local media reports.
---
Australia and asylum
Asylum-seekers - mainly from Afghanistan, Sri Lanka, Iraq and Iran - travel to Australia's Christmas Island on rickety boats from Indonesia
The number of boats rose sharply in 2012 and the beginning of 2013, and scores of people have died making the journey
Everyone who arrives is detained. They are processed in camps in Christmas Island, Nauru and Papua New Guinea. Those found to be refugees will be resettled in PNG or Cambodia, not Australia
The government is believed to be towing boats back to Indonesia. It has also returned asylum seekers intercepted at sea to Sri Lanka
Rights groups and the UN have voiced serious concerns about the policies
---