Korean Air executive 'nut rage' trial begins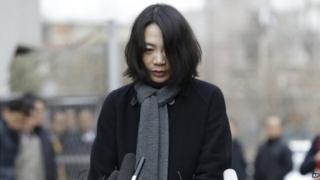 The trial has begun in Seoul of a South Korean airline executive who flew into a rage when macadamia nuts were served to her in a bag and not on a plate.
Cho Hyun-ah, a former vice president of Korean Air, ordered her plane that was taxiing to return to the gate and offload the chief steward.
The "nut rage" incident occurred on a Seoul-bound flight from New York on 5 December.
On Monday, she pleaded not guilty to charges of obstructing aviation safety.
Forty-year-old Ms Cho, who has been detained since 30 December, was wearing a green prison uniform in the packed courtroom.
She stood with her head lowered and answered questions in a whisper.
Ms Cho's lawyers argued in the opening statement that the charges were based on "exaggerated statements" and that the safety violations were minor given the plane was still on the ground and had not yet reached the runway.
Ms Cho, who is the daughter of Korean Air chief executive Cho Yang-ho, is also accused of interfering in the execution of a government official's duty and coercion, according to prosecutors, who said she allegedly exerted influence in the government investigation.
She faces a maximum 10 years in jail if found guilty of diverting the aircraft with no good reason.
She publicly apologised for the incident and resigned from all her posts at the airline in December.
However, the story was widely seen as an example of poor management in South Korea's family-run conglomerates, or "chaebols" that dominate the country's business landscape.
The Korean transport ministry said it would place sanctions on Korean Air of a ban on some routes or fines of up to $2m (£1.3m).