Afghan journalists face increasing danger - report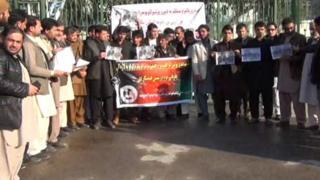 A local radio journalist, Aqil Mohammed Wiqar, was the first media casualty in 2015 in Afghanistan.
He was shot by unknown gunmen while attending a wedding in the eastern province of Nangarhar.
His colleagues blamed the Taliban. But new research reveals that most threats against journalists in Afghanistan are made by MPs, local officials, government forces and government-allied militias.
The report by Human Rights Watch revealed that 2014 was the worst year for threats and violent attacks against Afghan journalists.
And it found that those who carry them out are never prosecuted. Abdul Mujeeb Khalvatgar, the head of NAI, an Afghan media pressure group, said: "It is the definition of impunity. No one is following the cases in Afghanistan."
Far from protecting journalists' rights, the Afghan government has been moving in the opposite direction.
The attorney general frequently uses criminal law against journalists who offend powerful interests, while other complaints are dealt with through a Media Violations Investigation Commission, "furthering censorship rather than media freedom", in the words of Human Rights Watch.
And the "Information and Culture Ministry routinely turns a blind eye to officials who threaten, intimidate, or even physically attack members of the press".
A law giving journalists access to government information, similar to freedom of information codes elsewhere in the world, has yet to be activated, although signed by the new President Ashraf Ghani.
The author of the report, Patti Gossman, an experienced researcher into Afghan human rights, said that the worst intimidation of journalists comes when they report land grabs. Because of the threats, many hold back on information they know.
She said: "Journalists who work in the provinces particularly, and who try to uncover examples of land-grabbing which is one of the most sensitive issues, routinely will get calls from powerful figures. It just takes a simple phone call to say 'Stop covering this issue, or you will not have much of a future'."
As well as seeing increased threats to Afghan journalists, 2014 was also, perhaps coincidentally, the worst period of losses among foreign journalists.
A Swedish radio reporter, Nils Horner, was murdered on the streets in Kabul, and German photographer Anja Niedringhaus was shot dead by a police officer in the run-up to the election. A veteran news agency reporter, Kathy Gannon, was seriously injured in the same incident.
There are fewer foreign journalists based permanently in Afghanistan since the departure of most international troops, and this could have the effect of making it easier for Afghan officials to threaten local journalists.
In the past, international journalists have carried many of the most controversial stories first. Outside the cities, journalists are exposed to threats and intimidation from all sides.
The report found that journalists have a complex relationship with the Taliban. Before 2008, the insurgents routinely targeted journalists, but since then have tried to communicate with them, using them to report their side of the story.
That leads to threats and intimidation when media do not carry the Taliban's press releases, which frequently have inflated accounts of victories and of losses sustained by the government side.
In the same way that journalists self-censor rather than offend official sources, so they hold back in some reporting on insurgent groups too.
The editor of an independent Kabul-based newspaper Hasht-e-Sobh, Pervez Kawa, said that he receives threats almost every day. He said 2015 "might be even worse" than the year before, because there is still no established mechanism to protect journalists.
Like others he did not demand the right to print anything without question.
He agreed with the Human Rights Watch conclusion: "Editors should be held responsible for what they publish - but by their readers, communities, employers and independent journalist associations - not by the government."