Korean Air head scolded daughter over 'nut rage' case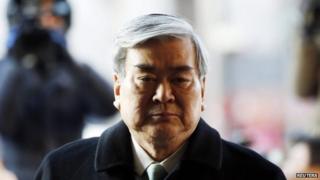 The Korean Air chief, Cho Yang-ho, has told a court he scolded his 40-year-old daughter for ejecting an air steward in a now infamous "nut rage" incident.
Both father and daughter apologised to the court for the incident, which erupted when Cho Hyun-ah was served nuts in a packet rather than on a plate.
Ms Cho appeared in green prison overalls, her hair falling over her face and speaking in a whisper.
She could face 10 years in jail.
She has denied forcing the flight attendant and the cabin crew chief to kneel and beg forgiveness while she shouted abuse.
In court, the attendant who mis-served the nuts said she was pushed by Ms Cho, a push now alleged to amount to a criminal assault.
Ms Cho is also accused of interfering with the execution of duty and coercing employees to give false testimony.
The case has sparked a storm in South Korea, highlighting nepotism within the country's mighty conglomerates, or "chaebol", and the perceived arrogance of the offspring of chaebol chiefs.
Ms Cho and her siblings have all served as executives with Korean Air.
'Uncontrolled emotions'
Plenty of humble pie is being eaten by some of South Korea's most privileged people in the aftermath of this incident, says the BBC's Steve Evans in Seoul.
"It was wrong to get a crew member off the flight no matter what the reason," Mr Cho told the court, during his first appearance in the witness box, according to Reuters news agency.
"I have scolded her for not controlling her emotions and [for] expelling the crew member," he said as his daughter appeared to wipe away tears.
He apologised to the crew chief whom Mr Cho forced to leave the flight, and promised he would face no reprisals if he chose to stay in his job.
Ms Cho ordered the plane to return to the gate while it was taxiing to the runway in New York on 5 December to eject the crew chief, causing an 11-minute delay to its arrival in South Korea.
The female flight attendant who served the nuts also gave testimony on Friday, saying she was pushed and had a service manual thrown at her by Ms Cho during the incident.
She said she was subsequently pressured to accept an apology from Ms Cho in exchange for a job as a professor, but did not accept.