'Bali Nine' case: Australian pair lose final bid to stay execution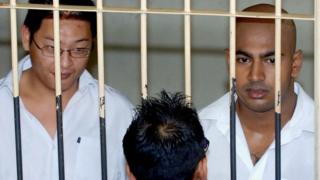 Two Australians facing the death penalty in Bali have lost a final legal bid to have their cases reviewed.
Lawyers for Andrew Chan and Myuran Sukumaran, members of the "Bali Nine" drug smuggling ring, had applied for a second review of their convictions.
But a court in the Balinese capital Denpasar rejected it, saying no new evidence was put forward.
President Joko Widodo, who supports capital punishment, has already rejected appeals for clemency.
It is understood the executions could happen within two weeks.
Denpasar district court spokesman Hasoloan Sianturi told reporters that the applications did not fulfil the requirements, such as presenting new evidence.
"The application for a judicial review will not be accepted," he said.
On Monday, Attorney General HM Prasetyo said that Chan and Sukumaran "will be included" in the next group of prisoners to be put to death.
Gang ringleaders
The two, along with seven other other Australians, were arrested in Bali in 2005 for trying to smuggle more than 18lb (8.3kg) of heroin from Indonesia to Australia.
Chan and Sukumaran were found to be the ringleaders of the group and sentenced to death the following year.
The other seven members of the "Bali Nine" are currently serving either life or 20 years in prison.
Indonesia has some of the toughest drug laws in the world and ended a four-year moratorium on executions in 2013.
Last month, Indonesia executed convicts from Malawi, Nigeria, Vietnam, Brazil and the Netherlands as well as one from Indonesia.
It prompted Brazil and the Netherlands to recall their ambassadors in protest.
Australian authorities have threatened to do the same if Chan and Sukumaran are put to death.