Japan pop star in coma after inhaling helium for TV stunt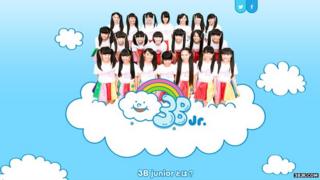 A 12-year-old member of a Japanese pop group has lapsed into a coma after inhaling helium during a TV stunt.
The girl is part of 3B Junior, a popular singing collective of 10-16-year-olds.
She was taking part in a recording for a variety show on TV Asahi on 28 January, when she fell unconscious and was rushed to a Tokyo hospital.
Local media reports say she suffered an embolism in the blood supply to her brain.
She was inhaling helium as part of a game that involved changing her voice, but TV Asahi later revealed that the gas canister was marked for adult use only.
The station apologised for the incident and said an internal probe had begun.
Local media said police had also launched an investigation on suspicion of professional negligence resulting in injury.
Despite her public status, the girl's name was not revealed because she is a minor.
A spokesman for TV Asahi said: "There are signs of recovery, but she is still not fully fit."
Inhaling helium is a common party trick but previous deaths have been recorded.
The UK's Public Health Agency warns that breathing in helium "deprives vital organs of essential oxygen" and can can cause "dizziness, headache and suffocation".