Romanian diplomat fired over rude embassy email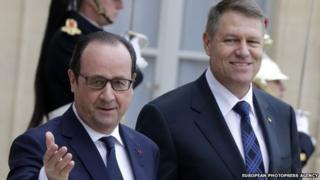 The Romanian Foreign Ministry says a diplomat has been fired after its embassy in Paris emailed invitations to a reception containing rude remarks about the guests.
The embassy sent out the invitations last week to an event with President Klaus Iohannis in Paris.
But it inadvertently attached a spreadsheet that described some guests as "undesirable" and one as "ghastly".
Romania's ambassador to France, Bogdan Mazuru said it was "unfortunate".
According to news channel Digi 24 Mr Mazuru said that he was willing to give explanations to parliament if necessary.
He added: "I don't consider myself guilty, I can be responsible though. There are two different things. When something is happening in your courtyard, then you are responsible."
The foreign ministry said the incident was "profoundly regrettable" and following an investigation decided to recall and fire the diplomat at the centre of the gaffe.
The director of the Romanian Cultural Institute in Paris, Yvette Fulicea, was also recalled to Bucharest, according to local news reports.