Are the Afghan Taliban ready to talk?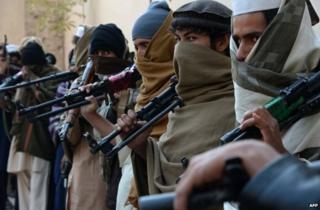 After more than a decade of hostility and stonewalling, a flurry of reports has claimed that all parties in the Afghanistan conflict are on the verge of talks. The BBC's M Ilyas Khan asks how likely it is that the Taliban are ready for talks with the government.
In the past, the Taliban have refused to hold talks, saying they could only talk to the Americans "who have occupied Afghanistan and are the real power".
But some recent developments have raised hopes that plans may be in the works to resolve the decade-old insurgency.
On 19 February, Reuters quoted unnamed Pakistani military officials as saying the Taliban had signalled their readiness for talks with Kabul.
And in January, another report claimed that a two-member delegation from the Taliban's political office in Qatar had visited Beijing in November 2014 and held talks with Chinese officials.
The Pakistani army has long been accused of fostering militant groups on both sides of its border with Afghanistan and arguably holds the key to any talks between the Afghan Taliban and the Kabul government.
Since taking charge in November 2013, Pakistani army chief Gen Raheel Sharif has spearheaded a diplomatic offensive to sort security challenges of the region with officials in Kabul, Washington, London and Beijing.
Positive noises have been heard in Washington, which recently extended by a year a $1bn funding facility for Pakistan's fight against militancy.
Last June, the Pakistani army bolstered its claims to be fighting the militants by storming their sanctuary in North Waziristan.
And the military's resolve to move against "all shades of militants" appeared to be galvanised by a massacre of schoolchildren by Pakistani Taliban gunmen in Peshawar on 16 December.
These developments, combined with the election of Ashraf Ghani as Afghan president late last year, have led to a dramatic turnaround in Pakistan's relations with Afghanistan.
And they have also paved the way for another attempt by Kabul to seek a rapprochement with the Pakistani military.
Gen Sharif is reported to have assured Mr Ghani that Pakistan will use its leverage with the Taliban to bring them to the table.
Many analysts agree that Pakistan can do this.
Taliban fighters depend on Pakistan for refuge, and use Pakistani channels to obtain funds, arms and logistics. If denied refuge, they will not be able to carry on fighting in Afghanistan.
China, which Pakistan considers to be an all-weather ally, has also recently offered to help broker talks between the various parties.
China is involved in large-scale trading and development projects in the region, and wants its investments to be secure.
And it has long urged Pakistan to stop what it says are Muslim militants from its western region of Xinjiang from sheltering on Pakistani soil.
Pakistan's military leadership is aware that any failure to bring peace to Afghanistan may compromise Pakistan's security, but it may still be tempted to ensure a couple of things before it delivers its part of the deal.
For example, it would like to make sure that the Afghan government guarantees it will limit India's influence on its territory - at least until Pakistan can directly sort out its issues with India, however long that might take.
India trains Afghan army and police recruits and has numerous consulates around the country, which Pakistan believes house Indian intelligence agents.
Analysts say suspicions on this count may make the Pakistanis drag their feet on eradicating the remaining militant hideouts in North Waziristan - or crack down on anti-India groups in Pakistan, which they still have not done.
Pakistan is also likely to give the Taliban a chance to put their house in order before plunging into talks.
The Taliban would like to prepare for complex and lengthy talks involving legal and ideological issues, and would be keen to first take into confidence their field commanders and foot soldiers.
This may be the reason why they have been denying that they are willing to talk.
The parties to the conflict in Afghanistan may be coming round to the idea of a negotiated settlement - but the contours of a possible agreement acceptable to everyone are still far from clear.