Pakistan 'killers' of Nanga Parbat climbers escape jail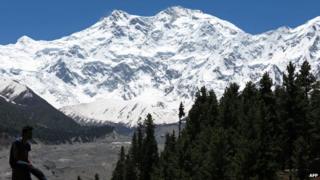 Two militants on trial for killing a group of climbers at a base camp of Pakistan's Nanga Parbat mountain in 2013 have broken out of prison.
Police said they were searching for the pair. Another militant who had fled with them had been killed and a fourth was captured.
Taliban militants raided the camp in June 2013, forcing 10 climbers to kneel before shooting them.
About 20 people were arrested and face trial for the attack.
The assault was the worst attack on foreigners in Pakistan in a decade.
At least 15 gunmen dressed in the uniform of local security forces carried out the attack.
Correspondents say the base camp is at a height of 4,200m (13,779 ft), meaning the attackers would have had to travel for at least 18 hours by foot or by mule.
The foreign victims were identified as American, Chinese, Ukrainian, Slovakian, Lithuanian and Nepali. One Pakistani porter also died and officials believe he may have been targeted because he was a Shia Muslim.
Nanga Parbat, the world's ninth highest mountain at 8,126m above sea level, is popular with trekkers and mountaineers, especially during June and July.