Taiwan man sentenced to death for train stabbings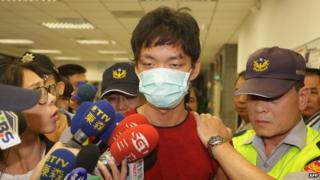 A Taiwanese court has sentenced a man to death for killing four people and injuring 22 others in a knife attack in the Taipei underground last May.
Cheng Chieh used a long fruit knife to stab fellow passengers during a Metro ride, before others overpowered him.
The 21-year-old pleaded guilty to murder and attempted murder charges.
The case shocked Taiwan, where violent street crime and mass attacks are rare. Security on the underground system was stepped up following the attack.
Announcing the death sentence on Friday, the Taipei court said the crime had been "brutal" Cheng had "shown no remorse".
Prosecutors had ruled out insanity and said Cheng had harboured a desire to kill since childhood.
After slashing passengers, Cheng attempted to flee at the next underground station but was overwhelmed by a group of security officials and commuters.
Taiwan executes those on death row by firing squad.