Sri Lanka frees Tamil activist Jeyakumari Balendran on bail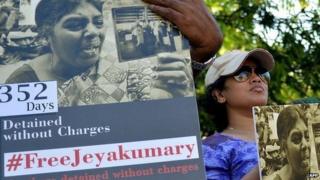 The Sri Lankan authorities have freed on bail a woman who campaigned against disappearances in custody during the country's quarter-century civil war.
Jeyakumari Balendran, who is from the Tamil minority, had been held for a year without charge.
She says her own son disappeared in army custody after the end of the war six years ago.
The release of Ms Balendran and nine other Tamil detainees comes as Sri Lanka's new president visits Britain.
The security forces detained Jeyakumari Balendran in March 2014, alleging that she was harbouring a suspected member of the Tamil Tiger rebel group.
But human rights groups have argued that her detention was aimed at silencing activists.
Sons killed
Ms Balendran has been a vocal campaigner, protesting against the alleged disappearances and detentions of thousands of Tamils during the civil war.
Her own son went missing aged 15 in the final stages of the conflict.
Her other two sons were killed in the war, and her teenage daughter was also detained last March, but was later put in a children's home.
Sri Lanka's new President, Maithripala Sirisena, is holding talks with UK Prime Minister David Cameron in London on Tuesday. Ahead of their meeting, Mr Cameron said Mr Sirisena must "keep up the pace" to improve the country's human rights.
Since his election in January the new Sri Lankan leader has taken steps to heal wounds created by the 26-year civil war, analysts say.
Sri Lanka's army defeated Tamil Tiger separatist rebels in May 2009 and both sides have been accused of committing war crimes.
A UN report into the alleged atrocities is due in September.