Japan police arrest man for US embassy bomb threats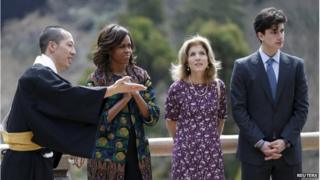 Japanese police have arrested a man for threats made against the US embassy, following multiple death threats against Ambassador Caroline Kennedy.
The 52-year-old man, detained on Thursday on the island of Okinawa, is suspected of making three calls to the embassy earlier this month.
He spoke of bombing the embassy and a US military base, police said.
Ms Kennedy, the daughter of former US President John F Kennedy, became ambassador to Japan in November 2013.
The arrest came as US First Lady Michelle Obama wrapped up a visit to Japan.
The man, named by local media as Mitsuyoshi Kamiya, had made the phone calls earlier this month from a payphone in the Okinawan city of Naha, police said.
Public broadcaster NHK and the Asahi newspaper quoted police sources as saying that Mr Kamiya had admitted to the allegations, as well as to threatening to kill Ms Kennedy.
Japanese media reported earlier this week that the US embassy had received about 30 phone calls containing threats to Ms Kennedy and Alfred Magleby, the US consul-general on Okinawa.
US State Department spokesman Jen Psaki said the man's arrest was a "positive step".
She also said that there was no relationship between the Japanese threats and an attack on US Ambassador Mark Lippert in South Korea earlier this month.
But she added that following Mr Lippert's incident, US embassies around the world "took a look at their own security arrangements".
In the phone calls made to the US embassy in Tokyo, the caller had referred to Camp Schwab, police said, which is one of several US bases in Okinawa.
Last year Japan began preparations to move an air base from another part of the island to reclaimed land off Camp Schwab.
The plan has been delayed for years due to significant local opposition. Residents say that the move will damage marine life, and want the air base to be moved off the island entirely.
Okinawa is home to 26,000 US troops. Many residents associate the US bases with noise, accidents and crime.