Malaysia website staff freed on bail after 'sedition' arrests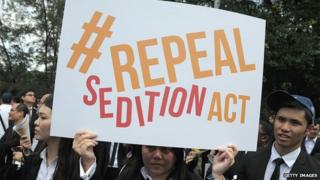 The publisher and editor of a Malaysian website have been freed on bail after their arrest on suspicion of sedition.
Ho Kay Tat and Jahabar Sadiq were among five workers at The Malaysian Insider who were arrested this week. The others - all editors - have also been bailed.
The group is being investigated for a report relating to a controversial proposal for sharia punishments.
Arrests for sedition have spiked recently, with opposition politicians, journalists and lawyers detained.
Mr Ho, head of The Edge media group which owns The Malaysian Insider, and the site's chief editor, Mr Sadiq, were released after spending the night in a Kuala Lumpur jail.
The site named the other three journalists, who were arrested on Monday and released on bail, as editors Lionel Morais, Amin Iskandar, and Zulkifli Sulong.
Police raided the news portal's office on Monday evening, going through computer files and emails and questioning staff.
On 25 March, the website had published an article that said a group of sultans and governors had rejected a proposal to allow strict Islamic punishment, known as hudud in South East Asia, in the northern state of Kelantan.
An official representing the group later filed a police report denying the claims in the article, as did a local youth wing of Umno, the party led by Prime Minister Najib Razak.
The issue of hudud has sparked fears that Malaysia, a multi-racial and multi-cultural country that has a Muslim majority, may move away from its moderate stance on Islam.
In an earlier statement, Mr Sadiq said The Malaysian Insider would "continue to report without fear or favour despite these arrests".
The Malaysian Insider, which was started in 2008, is among a crop of alternative media sites which have gained a considerable following in Malaysia in recent years. The local mainstream press is known to be tightly controlled or owned by parties in the ruling coalition, Barisan Nasional.
Arrests
In recent months, dozens of activists, critics, opposition politicians and lawyers have been arrested under the country's broadly-worded Sedition Act.
The daughter of jailed opposition leader Anwar Ibrahim, Nurul Izzah Anwar, was detained earlier this month for alleged sedition after speaking parliament about her father's conviction. She was later released.
Others arrested include prominent opposition politician Tian Chua, who led hundreds in a protest in Kuala Lumpur against Mr Anwar's jailing.
Prime Minister Najib Razak promised to scrap the country's sedition laws - a legacy of British colonial rule - after public rallies calling for reform in 2012.
But last year he went back on that pledge and said the laws would stay and even be strengthened.