Indonesia executions: Media outrage and support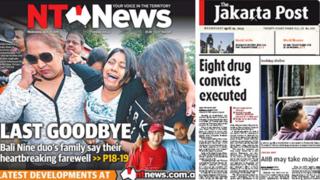 Australian front pages carry dramatic images of grieving relatives after the execution of two of its citizens was confirmed by Indonesian authorities, while editorials deplore what they see as a lack of mercy.
But such reaction is a far cry from comments in Indonesia's press and social media, which show little sympathy for those executed. In other countries caught up in the Bali Nine case, there is also some support for the principle of executing drug traffickers, even when their own citizens get caught.
"Barbarism"
The Sydney Morning Herald is affronted by what it calls the "barbarism" of President Joko Widodo's decision, which it says was made for "political expediency".
"The Indonesian President has shown himself incapable of the most basic human responses: mercy and compassion," it says in an editorial.
Mark Findlay in The Canberra Times agrees, saying the executions "confirmed the new president to his people as a tough guy not to be messed with".
Matthew Goldberg in the same paper doubts that these deaths will "play any realistic part in managing the nature of drug use, supply and trade in south-east Asia" and calls it a "futile, irrevocable, wretched act".
The Sydney Morning Herald editorial says that Australia's envoy should be withdrawn until protocols are drawn up about the treatment of Australians in the future. But it also warns against making a "bad situation worse," and calls for keeping the lines of communication with Indonesia open.
#Bali9 is the main hashtag for the story in Australian social media and has generated thousands of tweets. Most of them condemn the executions. Leading politicians are among those who have posted messages expressing sadness and regret.
Many internet users are critical of the role of the Australian police, who tipped off their Indonesian counterparts about the drug smugglers in 2005. A majority of Australians are said to be opposed to capital punishment for drug crimes.
"Embarrassing" traffickers
Contrasting with the outrage in Australian media, a Nigerian commentator seems more concerned about the shame brought to the country by several of its citizens who were among those executed.
"In spite of spirited efforts to discourage Nigerians from drug trafficking, many still persist in it, thus embarrassing family, friends and the nation at large," writes Sam Nzeh in Nigeria's Daily Times, adding that criminals should not expect their governments to come to their rescue.
The Philippine Star takes a more sympathetic tone towards one of its nationals, Mary Jane Veloso, who remains on death row after her execution was postponed.
"While I admire Widodo for taking a hard stance against drugs, especially since drug use and deaths related to drug abuse are rising in his country, I also admit that it's very possible that certain cases are not as black and white as they appear," writes Tony Katigbak, adding: "Perhaps I seem biased because Mary Jane Veloso is a... Pilipino."
"Sovereign laws"
The executions were not a top story in the Indonesian press. With public opinion overwhelmingly supporting the death penalty for drug traffickers, only a few commentators take up the issue, and they mainly agree with their government.
A mainstream Islamic daily, Republika, quotes President Widodo's reaction to Australia's withdrawal of its ambassador: "Our laws are sovereign. We also value the laws of other countries."
Kompas daily accuses Australians of having double standards and asks why Australia never raises the issue of executions in the USA.
But a commentary in the English-language Jakarta Globe, which has a largely foreign readership, wonders if Indonesia has done real harm to its relationship with Western countries.
"Even though it could be argued that states like Australia and France need Indonesia too much to allow the relationship to be damaged in the long term," writes Yohanes Sulaiman, Widodo "could find these states very unwelcoming towards him".
"When the day comes that he really needs their help, he would regret declaring that he would reject all clemency requests."
On Twitter, the vast majority of Indonesians continue to support the death penalty as they have since the case began, and some are now expressing enthusiasm for the idea of putting corrupt politicians before firing squads too.
BBC Monitoring reports and analyses news from TV, radio, web and print media around the world. You can follow BBC Monitoring on Twitter and Facebook.