Singapore Lego gift sets to children appear online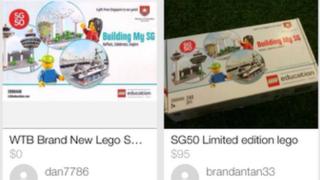 A Singapore-themed Lego set given as a commemorative gift to schoolchildren is being sold online, sparking interest among adult collectors.
The education ministry has given out the sets this week - they recreate local landmarks to mark the country's 50 years of independence this year.
The box states that it is "a gift from Singapore to our youth".
But the set quickly appeared online selling for up to S$100 (£49; $75), splitting opinion among enthusiasts.
The Building My SG set allows builders to create three local icons: the control tower of Changi Airport, Cavenagh Bridge by the Singapore River, and the Supertree giant planters from the public park Gardens by the Bay.
Boxes of the 244-piece set are being distributed to primary, secondary and junior college pupils - children aged between six and 18 - according to The Straits Times.
Owners began flogging the sets online on Wednesday, while others have been posting wanted ads. Enthusiasts in the United States, New Zealand and Hong Kong also expressed interest after it was posted on Lego fansite Brickset.
Some local brick fans denounced this development. "Don't feed the scalper," said Facebook user James Quaky on the I'm a Singaporean Adult Fan of Lego Facebook group.
But others were more sanguine and argued that it was up to market forces.
There are more than 60 Lego enthusiast groups in Singapore, and Lego sets has previously been distributed to community groups throughout the island to promote creativity, said The New Paper.