Japan city renews UN bid for kamikaze pilot letters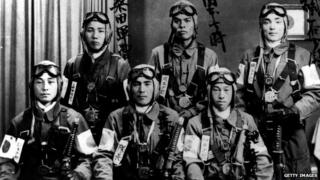 A southern Japanese city is trying for a second time to seek Unesco recognition for letters written by kamikaze pilots during World War Two.
Minamikyushu wants the farewell letters of pilots who headed off on suicide missions in the last months of the war to be listed as documentary heritage.
Mayor Kampei Shimoide said the letters help to promote peace by highlighting the horror of war.
A similar bid last year was rejected amid concern the letters glorify war.
It failed to get approval from Japan's education ministry, which is needed before the application can continue to Unesco.
At the time, China - which suffered under Japanese rule during the 1930s - condemned the move as "an effort to beautify Japan's history of militaristic aggression".
But Shimoide dismissed that view on Wednesday when he confirmed the city's reapplication to Unesco.
"We believe that our project... represents a significant step in the direction of realising world peace," he told reporters.
The kamikaze missions were launched from Chiran, a tea-farming town that is now part of the southern city of Minamikyushu.
Hundreds of young pilots left in hastily-constructed planes with just enough fuel to reach their targets, Allied warships, in the final months of the war in 1945.
The letters they wrote to loved ones before embarking on their one-way missions now reside in Minamikyushu's Chiran Peace Museum.
"Take courage, forget the past, and find new ways to be happy in the future," one 23-year-old pilot wrote to his fiance before he died.
Museum curator Mutsuo Kuwashiro called the letters "an invaluable record of the horror of war".
Minamikyushu is applying for the letters to be given Unesco's "Memory of the World" status.
Documents already registered include the diary of Anne Frank, the Jewish girl who hid with her family in a secret annexe of her father's business in Nazi-occupied Amsterdam for two years before they were betrayed and arrested in 1944. She died of typhus in the the Bergen-Belsen concentration camp in 1945.