Karachi bus massacre: Mass funeral for Ismaili Shias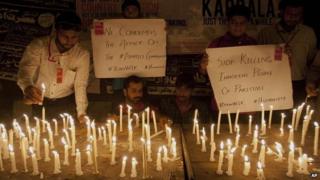 A mass funeral has taken place in the Pakistani city of Karachi for victims of a militant attack on a bus carrying minority Ismaili Shia Muslims.
At least 45 people were killed in the massacre on the city's outskirts.
Flags are at half-mast. Karachi markets and most schools are shut and transport suspended during a day of mourning.
Pakistani Taliban splinter group Jundullah, which claims links to Islamic State (IS), said its Sunni militant gunmen carried out the attack.
Officials have found pamphlets purporting to be from IS from the site of the massacre. The Pakistani Taliban also said they were behind the attack.
Analysts say Pakistan's fragmented militant movements have previously competed to claim attacks.
Wednesday's massacre was the first such attack on the tiny Ismaili community in Sunni Muslim majority Pakistan.
About 60 people were on the bus when it was stopped in the Safoora Chowk area on its way to the Ayesha Manzil Ismaili centre, police said.
Karachi police chief Ghulam Qadir Thebo said several suspects had been taken into custody, most of whom were members of banned militant outfits.
He said: "According to initial investigations, there were six attackers.
"Three went inside the bus and three remained outside. They fired with 9 mm and Kalashnikov rifles."
At least 13 others were injured. One of the survivors succumbed to her injuries on Thursday and will be buried later in the day, reports said.
The bus was making one of a number of daily scheduled trips between a gated community housing mainly Ismailis on the north-eastern outskirts and the main city.
On Thursday, funeral prayers were said under tight security at the Al-Azhar Garden community where the victims had lived.
The bodies were later carried to Sakhi Hasan and Al-Noor Society graveyards, local media reported. One person was buried on Wednesday.
---
Ismaili Shias, in common with other Shia Muslims, revere Ali, son-in-law of the Prophet Muhammad, but they also revere the Imam Ismail who died in 765 AD
They interpret the Koran symbolically and allegorically
Spiritual leader Prince Karim Aga Khan is a philanthropist and business magnate. He gives his name to bodies including a university, a foundation, and the Aga Khan Program for Islamic Architecture at Harvard University and the Massachusetts Institute of Technology
He has encouraged Ismailis settled in the industrialised world to contribute to those communities
---
A Jundullah spokesman said the group had carried out the attack because it considered the victims to be infidels.
Pakistan's army chief Gen Raheel Sharif has cancelled a trip to Sri Lanka and is leading the investigation.
Pakistan is about 20% Shia and 70% Sunni, with the remainder made up by other minorities. Karachi, Pakistan's commercial capital, has long had a reputation for sectarian violence.
Attacks on Pakistan's Shia
Numbers killed since January 2015 include:
60 killed in a mosque in southern province of Sindh in January

20 killed in attack on a mosque in Peshawar in February

14 die in suicide bombings outside two churches in Lahore in March

45 killed in attack on Karachi bus carrying Ismaili Shia Muslims in May