Pakistan Axact scandal: Police raid 'fake degree' firm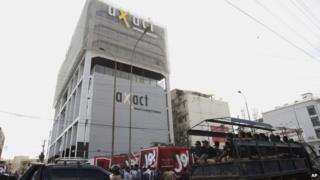 Police in Pakistan have raided offices of the software company Axact after the New York Times accused it of selling fake degrees.
Police say computers and other records had been seized and 22 people detained at its Islamabad offices, though no formal arrests have been made.
The newspaper says the company has made millions of dollars from marketing fake degrees online.
Axact has strenuously denied the allegations.
In a statement Axact called the allegations "baseless, substandard, maligning [and] defamatory" and threatened legal action against the New York Times.
The allegations have drawn attention in Pakistan as Axact has a high-profile media arm preparing to launch a TV news channel and publications in English and Urdu.
Axact's offices in Karachi were also raided as part of the investigation.
Interior Minister Chaudhry Nisar Ali Khan ordered the probe after the New York Times published its report on Sunday.