Asia migrants: Myanmar to attend regional crisis talks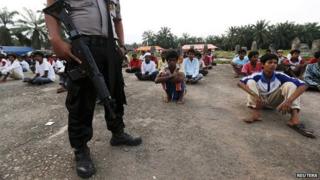 Officials in Myanmar say they will go to an emergency meeting in Thailand next week to address the region's growing migrant crisis.
Myanmar's attendance had been in doubt, despite growing diplomatic pressure.
Many of the thousands of migrants stranded at sea are Rohingya Muslims fleeing Myanmar, where they are not recognised as citizens.
Malaysia, which had been turning back boats carrying migrants, says it is now making efforts to rescue them.
Four Malaysian navy ships began searching the Andaman Sea for stranded boats on Thursday in the first official rescue operation. There are also several Indonesian warships on patrol in the area.
Most of the migrants are Rohingya Muslims fleeing persecution in Myanmar, but some are Bangladeshis thought to be economic migrants.
Myanmar is yet to confirm who will attend next week's meeting, but BBC East Asia analyst Jill McGivering says the fact it is taking part at all is significant.
"We are ready to co-operate with other governments to resolve the ongoing problems through constructive engagement and on humanitarian grounds," Zaw Htay, a spokesman for Myanmar's president, said in a statement.
The decision was made after an invitation letter arrived, he said, noting it did not imply Myanmar was solely responsible for the crisis nor use the word Rohingya, a term that is not recognised by his government.
Myanmar officials refer to members of the ethnic group as Bengalis, implying they are illegal migrants from Bangladesh, even though many have lived in the country for generations.
The country's information minister, Ye Htut, told reporters that it will vet any migrants found in its waters and "if they are citizens from Myanmar we will take necessary measures to protect them".
If they are not Myanmar citizens, he said the authorities "will give necessary help to those people, vet them and send them back to their countries".
The foreign ministers of Malaysia and Indonesia - as well as a senior US diplomat - are currently in Myanmar to discuss the crisis.
Both Malaysia and Indonesia have agreed to temporarily shelter those that land on their territory but have called on the international community's help with resettling them.
Thailand has said it will stop towing boats carrying migrants back out to sea but did not sign the agreement to provide shelter, saying it is already struggling to cope with tens of thousands of refugees from Myanmar.
---
Ship of survivors
The perilous journey of a migrant boat that made it
The Indonesian villagers saving migrants
---
On Thursday, European lawmakers called on the Thai authorities to crack down on smugglers and corrupt officials, who they say are responsible for leaving the migrants stranded at sea.
Thai authorities must "put an end to any complicity with criminal gangs" involved in the traffic, the MEPs said in a European Parliament resolution.
More than 3,000 migrants have been rescued by locals or come ashore in Indonesia and Malaysia in recent weeks. The UN refugee agency estimates more than 3,000 others may still be at sea.
---
Why has this crisis erupted?
Rohingya Muslims mainly live in Myanmar, where they have faced decades of persecution.
Rights groups say migrants feel they have "no choice" but to leave, paying people smugglers to help them.
The UN estimates more than 120,000 Rohingyas have fled in the past three years.
Traffickers usually take the migrants by sea to Thailand then overland to Malaysia.
But Thailand recently began cracking down on the migrant routes, meaning traffickers are using sea routes instead.
Why are so many Rohingya stranded at sea?
---
Have you been affected by the issues raised in this story? Are you a Bangladeshi or Rohingya migrant? You can email haveyoursay@bbc.co.uk.
If you would be happy to speak further to a BBC journalist, please include a contact telephone number when emailing us your details.
Send your pictures and videos to yourpics@bbc.co.uk,r text them to 61124 (UK) or +44 7624 800 100 (international) or via our WhatsApp number +44 (0)7525 900971 .
You can also upload here.