1MDB: The case that's riveting Malaysia
26 January 2016

From the section

Asia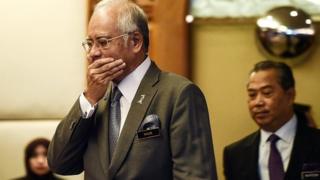 Malaysians are no strangers to money politics but the high-profile players and the amount of funds allegedly involved in the so-called "1MDB scandal" have gripped the nation.
---
What is the controversy about?
It stems from Prime Minister Najib Razak's strategic state fund called 1Malaysia Development Bhd (1MDB) set up in 2009 when he came into office. The fund is meant to turn Kuala Lumpur into a financial hub.
It started to attract national attention in early 2015 when it missed payments for the $11bn (£7.1bn; €9.9bn) it owed to banks and bondholders.
Former Prime Minister Mahathir Mohamad has said the fund has taken on too much debt and lacks transparency. He has also criticised Mr Najib's family's "lavish" lifestyle, which has been regularly discussed in the local press.
Then the Wall Street Journal (WSJ) reported it had seen a paper trail that allegedly traces close to $700m from the troubled fund to Mr Najib's personal bank accounts.
---
What do those involved say?
1MDB said in a statement that it has never given money to the prime minister and called the claims "unsubstantiated." It repeatedly states that the company has assets worth more than its debts.
Mr Najib also denied taking money from 1MDB or any public funds, and his lawyers have demanded an explanation from the WSJ on its report.
According to the New Straits Times, he told local reporters that it was "illogical" for him to embezzle money and then stash it in his personal account.
Then in a post on his Facebook page, he accused his fiercest critic, Mr Mahathir, of "political sabotage".
Mr Najib said he believed Mr Mahathir worked "hand in glove" with foreigners as part of a campaign "to topple a democratically elected prime minister." He said these attacks began when he refused to implement Mr Mahathir's "personal demands".
The BBC put Mr Najib's allegations to Mr Mahathir, who dismissed the claims. Instead, he called on the prime minister to show proof that he didn't pocket state funds.
Mr Najib has said the money is a donation. Malaysia's anti-corruption commission says it has verified that claim, adding that the donors who deposited the money are from the Middle East. It did not disclose their identities.
In January, Malaysia's attorney-general said the money was a personal donation from the Saudi royal family, and cleared Mr Najib of corruption.
However, many of his critics remain sceptical - and point out that Mr Najib removed the previous attorney-general who led the investigation into the scandal.
---
How were the claims investigated?
There were multiple domestic official investigations into the 1MDB fund, including a special task force headed by the attorney general. The team raided the office of 1MDB and took away some documents.
But in July 2015 Mr Najib replaced his deputy Muhyiddin Yassin, who had criticised Mr Najib's handling of allegations, and removed the attorney general on health grounds. The investigation was temporarily suspended.
However, foreign authorities also began investigating.
Singapore police said they had frozen two bank accounts as part of an investigation linked to 1MDB, and Hong Kong police said they were investigating bank deposits allegedly linked to Mr Najib.
Swiss authorities opened criminal proceedings related to 1MDB on "suspected corruption of public foreign officials, dishonest management of public interests and money laundering".
The Wall Street Journal said the Federal Bureau of Investigation had also launched an investigation into allegations of money-laundering at 1MDB. The New York Times said a US federal grand jury was examining the claims involving Mr Najib.
However, the president of 1MDB Arul Kanda told the BBC that no foreign investigators had contacted the investment fund and no employees were under investigation.
---
How much pressure is Najib under?
Malaysian opposition parties have formed a new alliance, called the Alliance of Hope, but opposition leader Anwar Ibrahim is currently in jail, on sodomy charges that his supporters argue are politically motivated.
Mr Najib's greatest threat comes from his own governing party and in particular Mr Mahathir, who is still regarded as the father of modern Malaysia and highly respected.
This is Mr Mahathir's third campaign against the men he groomed to be the country's next leaders. He successfully ousted his deputy, Anwar Ibrahim, in the late 1990s and also forced his successor, Abdullah Badawi, to step down. Now Mr Mahathir has called on Mr Najib to resign.
Pro-democracy group Bersih has held mass rallies demanding Mr Najib's resignation.
However, thousands of ethnic Malays have also rallied in support of the government saying they want to "uphold Malay dignity".
---
What do Malaysians think about it?
The 1MDB controversy had been featured prominently in the local press for months but few Malaysians understood what it could mean until the WSJ report.
It now resonates with many Malaysians who are struggling with the rising cost of living. The alleged mismanagement of a state fund makes many poor Malaysians resent paying the new broad-based consumption tax.
But it hasn't made Malaysians lose their sense of humour.
One social media trend recently was to think of major film titles with a 1MDB twist.
Some of the more popular ones included: "Frozen (bank accounts)", "42 billion shades of debt", "How to train your ministers" and "The debt knight rises."
One Twitter user summed up the feeling of confusion in the country: "Malaysia is now in the darkest of political times."
Malaysian authorities have blocked online access to a website and newspapers that covered the 1MDB scandal extensively.